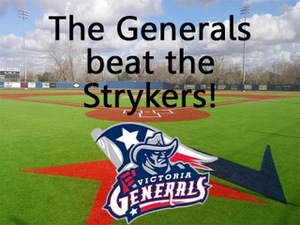 Victoria Generals Open Two-Game Series with Win Against the Woodlands Strykers
The Generals fell down early, but marched back to win 9-3 Saturday night at Riverside Stadium.
The Generals kept the Strykers quiet until Jonathan Ducoff hit a solo-shot home run to give the Strykers a 1-0 lead in the third inning. The Strykers continued their success at the plate by adding two more runs thanks to Noah McGown's two-run RBI single. But that was all the Strykers would score the remainder of the game.
The Generals get their bats going in the bottom of the fourth scoring two runs. Bryce Brandl hit a RBI single, then later in the inning Nate Alberius scored off a fielder's choice grounder by Levi Zents that pulled the Generals within 3-2.
The Generals continued to get their bats going in the sixth inning scoring five runs and added a run each in the seventh and eighth innings.
Pedro Barrios had four hits and he and Zents were each credited with two RBIs. Sam Mahofski, Nick Anderson, Chace Sarchet and Bryce Brandl each had one RBI.
Lee May Gonzalez started the game and pitched three innings giving up three runs on three hits and five strikeouts. Chance Callihan came in the fourth and pitched six shutout innings striking out six and giving up just one hit to get the win on the night.
The Generals look to complete the sweep of the Strykers, Sunday, first pitch is at 7:05 p.m.
Gates will open an hour before first pitch with happy hour on the Compadres Design Party Deck. Draft beer will be half-price until first pitch.