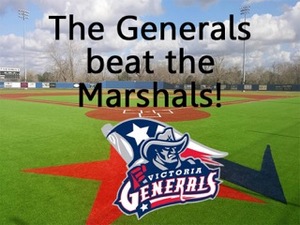 Victoria Generals Sweep the Texas Marshals at Home
The Victoria Generals took care of business at Riverside Stadium and completed the two-game sweep of the Texas Marshals winning 7-4 on Monday.
The Generals used a pitching by committee approach that included five different players.
Michael Brawner started of the game, but was relieved in the fouth inning by Chance Callihan who pitched three hitless innings to record the victory.
Kaleb Keith, Triston Busse and Riley Cooper all came in the game in relief to help secure the victory.
The Generals had 13 hits and were led by Mac Odom and Chace Sarchet, who each had two hits and two RBIs. Bryce Brandl also had three hits on the night, including a triple.
Levi Zents, Christian Caudle and Nate Alberius each had a RBI as well.
The Generals continue their hot streak at home winning three straight games.
The Generals look to maintain their successful play and hit the road as they take on the Woodlands Strykers on Thursday and Friday in a two-game series.
The Generals return home Saturday, July 2 when they host the Strykers for a two-game series. First pitch takes place at 7:05 p.m.
Gates will open an hour before first pitch with happy hour on the Compadres Design Party Deck. Draft beer will be half-price until first pitch.