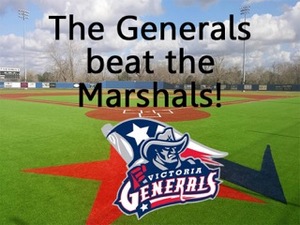 Victoria Generals Open with a Win Against the Texas Marshals
The Victoria Generals take a 5-2 win in the first game of a two-game series against the Texas Marshals.
The Generals picked up their first run in the bottom of the fifth to give them an early 1-0 lead.
The Marshals immediately bounced back and took a 2-1 lead in the top of the sixth. But the Generals continued their hitting in the bottom of the sixth scoring four more runs to give them a 5-2 lead, which the Generals would not look back on for the remainder of the game.
Lee May Gonzalez pitched an outstanding seven innings giving up four hits and one earned run while striking out eight batters to get the win on the night.
Kenny Saenz came into relieve Gonzalez and struck out one in the eight followed by Braxton Smith coming in the ninth and striking out three to get the save on the night.
Pedro Barrios, Bryce Brandl, Christian Caudle and Garrett Gray were the Generals that brought the five runners home on the night, including Brandl bringing home two.
The Generals look to continue their success and sweep the Marshals Monday, June 27 at 7:05 p.m.
Tomorrow is also Pepsi Night at the Park, one dollar Pepsi products and other sodas for the whole game.
Gates will open an hour before first pitch with happy hour on the Compadres Design Party Deck. Draft beer will be half-price until first pitch.