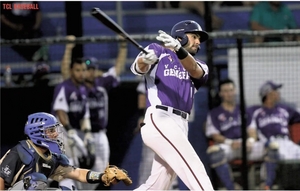 Generals Win in Walk-off Fashion
Stepping to the plate after starting a game 0-4 is no easy task. Add to it the game situation of having the bases loaded with two outs in the bottom of the ninth, and the game-winning run is standing at third base. Christian Cuadle delivered a single down the right field line when it mattered most scoring Levi Zents and gave the Generals a 4-3 win over the defending Texas Collegiate League Champion Brazos Valley Bombers and a series split.
The Bombers opened the scoring in the top half of the first. Jon Grimsley started things off with a one-out single before reaching home on a sacrifice fly by Alex Samples. Grimsley had advanced all the way to third on an error by pitcher Lee May Gonzalez who was making his first start of the summer. Gonzalez allowed three unearned runs in five innings.
A two-out rally in the third plated the final two Bombers' runs. Grimsley kept the inning alive with a single and stole second before scoring his second run on an error by the third baseman Zents which also allowed Samples to reach second base. After Michael Fitzsimmons was hit by a pitch, Samples scored on Ben Hollis' single.
Sam Mahofski came around for the first Generals' run in the home half of the third. He reached on a fielder's choice, stole second base and scored on Chace Sarchet's single.
Chris Jones took over on the mound for Gonzalez in the sixth and tossed two scoreless frames before giving way to Braxton Smith, who earned the win with two more shutout innings.
The tying run came across for the Generals in the seventh. Mahofski and Sarchet delivered back-to-back one-out singles and advanced to second and third, respectively, on a wild pitch before Pedro Barrios' groundout scored Mahofski. Sarchet reached third on the groundout and scored on a wild pitch by Miguel Ausua, who came in with one out in the seventh and took the loss.
Zents legged-out a lead-off double in the ninth and advanced to third on an error by third baseman Samples. Barrios was intentionally walked to load the bases before Caudle delivered the game-winner.
The night was capped off with a jersey auction for Purple out the Park as all player and coaches jerseys were auctioned off and all proceeds going to the Alzheimer's Association.
The Generals (6-9) and Bombers (10-2) will play three more against each other this weekend in Bryan before the Generals return to Victoria for a two-game set with the Acadiana Cane Cutters on Monday and Tuesday. Both games against the Cane Cutters are Free Tickets Nights. Monday's game is sponsored by Invista, and Tuesday's games is sponsored by the University of Houston-Victoria with both games starting at 7:05 p.m. at Riverside Stadium.