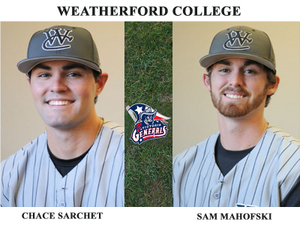 March 7, 2016 – With the 2016 Texas Collegiate League season less than three months away, the Victoria Generals continue to add to their roster with the addition of a pair of top prospects from Weatherford College. Chace Sarchet and Sam Mahofski, both sophomores, will help strengthen the Generals line-up as they take the field in late May. Both players had an outstanding freshman season in 2015 helping Weatherford to a 39-15 record.
"We are extremely fortunate to have both of these young men join the Generals and know they will have an instant impact for us, "stated Mike Yokum, the General Manager for the Victoria Generals. "Weatherford is a great organization with top talent and we are glad to have them represented on our 2016 squad."
Outfielder Chace Sarchet will suit up for the Generals after a solid freshman season at Weatherford. Sarchet finished up 2015 hitting .371 with 72 hits, 17 doubles, four triples, eight home runs, with 23 walks, while leading the conference with 68 runs batted in. Sarchet is following up with a solid start to his sophomore season, playing in all 19 games thus far hitting .347 with seven doubles, three triples and a pair of home runs to go along with 23 runs batted in. Sarchet was a Perfect Game Texas All-Regional 1st Team selection in 2014 as a senior at Frenship High School in Lubbock, Texas.
Middle infielder Sam Mahofski will help solidify a veteran infield of returners from last season as he suits up for the Generals in May. Mahofski also had an outstanding freshman season in 2015 hitting .369 with eight doubles, a triple and 25 runs batted in on the season, while finishing fifth in the conference with an on-base percentage of .489. Mahofski has picked up where he left off this season hitting .387 with 24 hits, five doubles, two home runs and 15 runs batted in 18 games thus far in 2016. Mahofski was voted in as the 2014 District 15-4A District MVP out of Mansfield Legacy High School in Mansfield, Texas.
The Generals have had several notable players from Weatherford College including Freddy Villalobos and Bryson Myles. Villalobos went on to have a successful baseball career at Stephen F. Austin State University and played for the Generals in 2011. Myles also went on to Stephen F. Austin State and was later drafted in 2011 in the 6th round of the MLB draft by the Cleveland Indians. Myles continues to work his up in the minor leagues with the Cleveland Indians and continues to be a top prospect for the future.
The Generals will begin their season at home on May 27 at Riverside Stadium as they take on the Texas Marshals. The 2016 schedule is now available on our website at www.victoriagenerals.com Stop by the Generals Team Shop and get your team merchandise located at 1307 E. Airline Road, Suite H in the Town & Country Shopping Center.