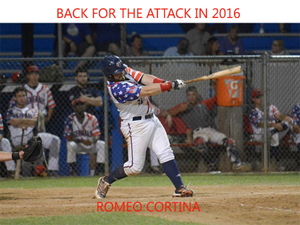 Generals MVP Romeo Cortina Headlines Latest Returners for the 2016 Season
December 4, 2015 – With the 2016 Texas Collegiate League season right around the corner, the Victoria Generals continue to add talent to their roster. This week, the Generals have announced the signing of three more players from their 2015 squad, bringing the total to nine returning players from last season. Dakota Phillips, Kyle Craft and Romeo Cortina will suit up for the Generals as they take the field in late May.
"It is awesome to have these guys return as they played a big part in our success in 2015," commented Mike Yokum, the GM for the Victoria Generals. " With their leadership to help guide the younger players gives the Generals a great chance in bringing the championship back to Victoria."
Dakota Phillips, a sophomore catcher/first baseman from Alvin Community College, will return for his second season with the Generals in 2016. Phillips was having a MVP type season when his season was cut short due to a hand injury in late June. At the time of his injury, Phillips was leading the league in home runs (3) and was starting to hit his stride offensively. Phillips is fully recovered from his injury and had an outstanding Fall at Alvin with several multi-homerun games as they got ready for their season that will start in early February. Phillips played in 17 games for the Generals hitting .259 with three doubles, three homeruns, six walks and 11 RBI's. Phillips has signed to play for the University of New Orleans after his sophomore season at Alvin.
"It will be great to see Dakota return for another season with the Generals as he is an outstanding guy on and off the field, "commented Yokum, "Dakota continued to stay with the team even after his injury and remained a leader to help motivate the other players. We expect great things out of him this upcoming Summer."
Kyle Craft, a sophomore pitcher from Wharton Junior College, will join for his second season with the Generals. Craft, a standout pitcher from Victoria East High School, joined the Generals in the second half of the season appearing in nine games. Craft pitched 12.2 innings, striking out seven, allowing just three runs and compiled a 2.13 ERA. Craft will wrap up his sophomore season at Wharton before heading to Nicholls State in the Fall of 2016.
Our final returner announced this week, Romeo Cortina, will join the club for his third season with the Generals. Cortina, a red-shirt junior outfielder from St Edwards University, has had two outstanding seasons with the Generals in 2013 and 2015 and is the all-time leader in Generals history in home runs (9) and RBI's (63). Cortina joined the Generals in late June this past season due to a knee injury he was recovering from and picked up right where he left off from his 2013 season. In 33 games, Cortina compiled a .326 batting average (team leader) with 43 hits, 14 doubles, four home runs, 18 walks, three stolen bases and a team leading 26 RBI's. Cortina was also named the Generals MVP for the 2015 season. With Cortina's return for the 2016 season, he stands a chance of shattering many of the Generals all-time offensive records.
"Strong leadership wins ball games and with the return of these quality individuals, we stand a great chance to go far this upcoming season, "commented Michael Oros, returning Head Coach for the Generals. "Expectations will be much higher for these guys as they help lead the Generals as we battle for the title next Summer. The fans of Victoria deserve another championship and that is our mission as we build our roster."
The Generals will begin their season in late May at Riverside Stadium. The 2016 season will have a new look at Riverside Stadium with an enhanced turf infield that is almost complete. The 2016 schedule should be out soon and will be published on the Victoria Generals website at www.victoriagenerals.com. Stop by the Generals Team Shop and get your team merchandise located at 1307 East Airline Road, Suite H in the Town & Country Shopping Center.