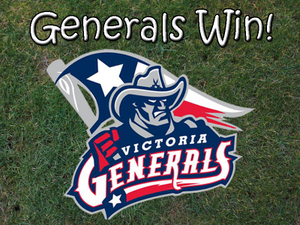 Victoria Generals vs. Texas Marshals
Victoria- Behind a strong starting pitching performance from Sam Ashey and a 3 for 4 night at the plate from Jonathan Reyes, the Generals won the final game of the regular season, 8-3, over the Texas Marshals.
Bo Sheridan earned the win with two shutout innings of relief.
The Generals started the game out quickly, scoring one run in the bottom of the first. Reyes scored on a double into the right field gap from Romeo Cortina.
Sheridan took the mound out of the bullpen in the fifth, replacing Ashey. Ashey allowed no runs on five hits in his four innings of work.
Rynne Touchet entered the game to pitch in the fifth inning for the Marshals. Dylan Porter, who Touchet replaced on the mound, finished the night allowing one run on six hits in four innings of work.
Reyes scored on a wild pitch from Marshals pitcher Touchet to give the Generals a 2-0 lead in the fifth. Christian Caudle added a third run with an RBI ground out that scored Darien Simms.
The Generals scored their fourth run of the ballgame in the sixth with Pedro Barrios scoring on an RBI doube-play from Keith Funk.
Bo Sheridan left the game after two innings of work, making way for Grayson Pratt out of the bullpen. Sheridan allowed no runs on no hits.
Justin Lott smashed a solo homer to left to lead off the seventh inning, making the score 4-1. Hunter Harrison drove in two more Marshals runs with a single, scoring Logan Jones and Rynne Touchet.
Pratt was then replaced by Victoria native, Kyle Craft. Craft worked out of the jam and kept the Generals on top, 4-3, at the seventh inning stretch. After one and two-thirds shutout innings tossed by Craft, Chris Jones took over on the mound for the Generals in the eighth.
Funk drove in Barrios with one out in the eighth. Adam Goss would then hustle home on a wild pitch, putting the Generals up 6-3. Funk scored on an error by the third baseman. Reyes scored on another wild pitch. Lance Moszkowicz went in to pitch for the Generals in the ninth.
The Generals head to Acadiana on Saturday to take on the Cane Cutters in the first round of the TCL Playoffs. Check back after Saturday's playoff games for information on further Generals playoff games.