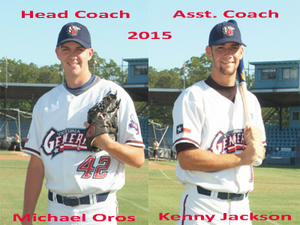 January 22, 2015 – The Victoria Generals announced today that Michael Oros will become the team's fifth head coach in team history for the 2015 season. Oros was a right-handed pitcher for three seasons with the Generals (2009-2011) Also joining Oros as his assistant coach is Kenny Jackson, a short stop, who played for two seasons with the Generals (2009-2010) Both players were a part of the Generals championship season in 2010 when the Generals won the title against the East Texas Pump Jacks.
"I am thrilled to have both of these former Generals back to lead the team this season," commented Mike Yokum, Generals Vice President and General Manager. "Both coaches have a winning mentality and know what it takes to win in the Texas Collegiate League. With Michael's pitching knowledge and strong leadership along with Kenny's ability to coach players on the offensive aspects of baseball, we are set for another awesome season in 2015."
Oros joined the Generals in the Summer of 2009 out of San Jacinto Junior College where he saw limited action as a freshman. The Generals allowed Oros to develop that first summer with 30 innings of work, compiling a 3-0 record, 1.53 ERA allowing only 5 earned runs with 26 strikeouts. His second season with the Generals, Oros was moved to a starter making 8 starts, tossed 53.1 innings, 2.19 ERA allowing 15 runs, a team leading 49 strikeouts while compiling a 4-1 record. Oros transferred to Sam Houston State University his junior season where he tossed 40.2 innings in relief. His final season as a General, Oros made 12 starts, 69.1 innings pitched with 48 strikeouts while compiling a 3-3 record. Oros is the Generals franchise record holder in wins (10), starts (24), innings pitched (152.0) and strikeouts (123). Oros finished up his collegiate career at Sam Houston as their number one pitcher compiling an 8-1 record with a 2.52 ERA in 78.2 innings of work his senior season.
Oros would go on to play professional baseball for two seasons with the White Sands Pupfish of the Pecos League and the Florence Freedom of the Frontier League. Oros was the Freedom team leader in innings pitched with 87 innings as well as strikeouts with 80. Oros led the Frontier League in ERA with a 2.16 ERA while also being selected as a Frontier League All-Star.
"It has been a goal of mine to return to the Generals as a head coach since I finished up playing there in 2011," commented Oros. "The fans of Generals baseball have always been awesome and I look forward to working with Kenny to bring the Generals another Championship."
Jackson also joined the Generals for their inaugural season in 2009 as the starting short stop and compiled a .256 batting average with 47 hits and 28 RBI's in two seasons with the Generals. Kenny was a high school standout at King High School in Corpus Christi before moving on to Alvin Community College. At Alvin, Jackson was a first-team all-conference shortstop as a sophomore where he hit .376 with six home runs and 41 RBI's and earned the team's Most Valuable Player and Defensive Player of the Year awards. His junior season, Jackson transferred to Texas A&M University where he played all positions in the infield with 30 hits and a .263 batting average. In Jackson's final collegiate season in 2011 for the Aggies he hit .278 with 65 hits and had 28 RBI's.
Jackson was drafted by the Florida Marlins in the 31st round of the MLB Amateur Draft and would play one season for the GCL Marlins of the Gulf Coast League where he would play in 37 games with 20 hits and 15 RBI's. Jackson is currently in his second season as a volunteer assistant at Texas A&M Corpus Christi where he is the 3rd base coach and assists with hitting instruction.
"2015 will be a great opportunity for the fans of the Generals to reunite with a few players from the past as they take on new responsibilities as coaches for the Generals," commented Yokum. "Both coaches look forward to their return to Victoria and will be great ambassadors to the game of baseball for our fans."
Season tickets for the Victoria Generals 2015 season are on sale now as the Generals prepare for their home opener against the Brazos Valley Bombers on Saturday, May 30 at 7:05pm at Riverside Stadium. Fans can buy season tickets and team merchandise at the Generals team store located at 1307 East Airline Road, Suite H in the Town & Country Shopping Center, online at www.victoriagenerals.com, or by calling 361-485-9522.