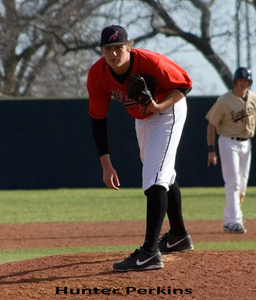 December 3, 2014 – With the 2015 Texas Collegiate League season right around the corner, the Victoria Generals have begun to sign players that will help them on their quest for another league championship. This week, the Generals have announced the addition of two players from Victoria East High School. Hunter Perkins, a 2013 graduate and Ryan Williams, a 2014 graduate, will suit up for the Generals as they begin play on May 28th. Both players come to us from Alvin Community College in Alvin, TX.
"We look forward to having local talent on our ball club and expect great things from both of them," commented Mike Yokum, the GM for the Victoria Generals. "Victoria East, under the leadership of Wes Kolle, have proven themselves as a dominate team over the past few seasons and we look forward to these guys being a big part of our success. "
Hunter Perkins, a right-handed sophomore at Alvin, was limited his freshman season due to injury and only tossed 4 innings, with 2 strikeouts, no walks and no runs allowed. His senior season with the East Titans, Perkins had a fine season throwing 53.1 innings, 7 starts (4 complete games), and finishing with a 6-3 record. Perkins had 69 strikeouts and held his opponent to a .143 batting average.
Ryan Williams, a left-handed freshman, had an amazing final season at East High School. Williams tossed 32 innings, compiled a 4-2 record in 7 appearances (5 starts), 2 complete games, had 53 strikeouts, only 7 walks, and 1 save. Williams led the team with an amazing 0.22 ERA.
"It will be great for the fans of Victoria baseball to get an opportunity to see these guys in a Generals uniform, " commented Yokum, " Both these young men have the potential to see plenty of game time this upcoming Summer, as a starter and in relief duties and will definitely be welcomed by their home town crowd."
The Generals look to build on the success they had in 2014. The Generals set a franchise record for wins in a season (38) as the Generals finished up with a record of 38-23. The Generals beat the Acadiana Cane Cutters in a one game playoff 4-3 in 11 innings sending them to the Championship Series against the Brazos Valley Bombers in a rematch of the Championship Series from 2013. The Generals would take game one at home and would go on the road for game two and game three if necessary. The Generals would take a 3-2 lead into the bottom of the 9th and with two outs, the Bombers would send the game winning runs across the plate to take game two by a final of 4-3. The Bombers would go on to take the Championship with a 2-1 pitchers duel in the deciding game of the series for their second straight TCL title.
The Generals will begin their season on May 28, 2014 on the road against the Acadiana Cane Cutters in Lafayette, LA. The Generals will return home for their home opener on May 30, as they seek revenge against the Brazos Valley Bombers at 7:05pm at Riverside Stadium. Season tickets for all 30 of the Generals home games this season are on sale now. Fans can buy season tickets and team merchandise at the Generals team store located at 1307 East Airline Road, Suite H in the Town & Country Shopping Center, online at www.victoriagenerals.com, or by calling 361-485-9522.