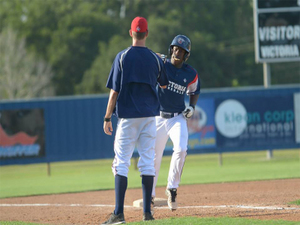 Generals beat the Brazos Valley Bombers Tuesday night by a score of 3-2. Ty Schlottmann started on the mound tonight for the Generals going 6 innings, allowing 2 runs and striking out 1. A couple Generals that stood out offensively tonight: Matt Burks went 2 for 4 with 2 solo homeruns on the night, and Pedro Barrios goes 1 for 3 with a RBI double.
Bombers got on the board first tonight in the Top of the 1st inning when Logan Nottebrok hit into a fielders choice RBI, making the score 1-0. Nottebrok would come up again for the Bombers in the Top of the 3rd inning and hit a solo homerun to make the score 2-0.
Matt Burks stepped up in the Bottom of the 6th inning and delivered a solo homerun to make the score 2-1. The Generals would make some. noise again in the Bottom of the 7th inning when Pedro Barrios hit an RBI double that scored Kyle Danford to tie the score 2-2.
Matt Burks added to his fantastic night again in the Bottom of the 8th inning when he hit another lead off solo homerun to take the lead for the Generals 3-2.
With that 3-2 victory, the Generals have taken 1st place in the TCL standings.
Join the Generals in the second game in this series against the Bombers, for Victoria College Night at Riverside Stadium starting at 7:05. It will be Wingstop Wednesday at the ballpark, if the Generals win, fans can redeem their ticket stub for free wings on Thursday. So come one, come all to enjoy some action packed Generals baseball against the rival Bombers.