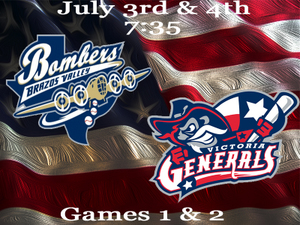 Victoria TX - Generals win tonight's ball game with a 1-0 walk-off victory in tonight's 4th of July thriller, as they beat the Brazos Valley Bombers. Generals starting pitcher, Kris Looper , pitched 9 shutout innings, striking out 5, and only giving up 3 hits on the night.
Looper continued his mastery with an incredible pitching performace, lowering his league leading ERA to 0.82, taking the lead from team mate Ty Schlottman (0.96). Looper, in 32.2 innings has a record of 2-1 with an impressive 26 strikeouts and only 3 walks.
Armando Arevalo would take the mound in the 10th and would shut down the Bombers in relief of Looper. Arevalo improves his record to a league leading 5-0.
Pedro Barrios provided most of the offense for the Generals, going 2-3 on the night with a walk. Kyle Danford also contributed to the offense with a double in the 2nd inning, but would be left stranded.
The bottom of the 10th for the Generals would start with CJ Pickering reaching first as a hit batsman. Matthew Burks would draw a walk, moving Pickering into scoring position. Justin Pacchioli would come to the plate and bunt the ball towards the mound. Pitcher Andre Shewcraft would field the ball and attempt to get Pickering out at 3rd, but would overthrow third baseman Nottebrok, scoring Pickering from second to end the game.
With the win, the Generals improve their overall record to 23-9, one game behind the Bombers for best record in the league.
Come out tomorrow night for Dog Day at the Park, presented by Dorothy H. O'Connor Pet Adoption Center. Fans can bring their family friendly dogs to the ballpark to enjoy the game. We will also be featuring Chicken Fajitas on the grill in the concession stand, as well as other ballpark favorites. Come out and watch your Generals as they take on the East Texas Pump Jacks. First pitch at 7:35pm.