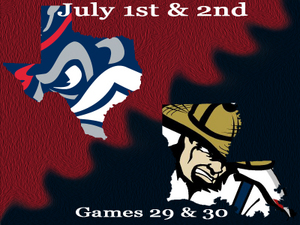 Lafayette, LA - Ty Schlottman picked up where Ryan Benitez left off Sunday night for the Generals, not allowing a single Cane Cutter to score, and Victoria won 2-0 in the series opener.
Following five straight scoreless frames to open the ballgame, Alvaro Rondon drove Justin Pacchioli in for the first run of the game for the Generals on a triple. Pacchioli led off the inning with a single, moved to second on a stolen base, then went straight to third on an error.
Nick Zaunbrecher had only allowed three hits through the first five innings but was taken out after the first run scored. Scott Szush came in to relieve Zaunbrecher.
Brian Portelli would waste no time in bringing Rondon in on a groundout, making the score 2-0, which finalized Zaunbrecher's line on the night.
Szush would only throw one complete inning, before Evan Hebert came on in the seventh for the Cane Cutters.
The ninth inning would start with a third pitching change for Acadiana. Hayden Guidry took over, after two innings from Hebert and only one hit allowed. Between Szush and Hebert, the Cane Cutters were very good in relief, only allowing two hits and no runs.
After eight superb innings thrown by Schlottmann, Jeff Chestnut came in for the Generals and picked up the save. The Generals will look for the series sweep tomorrow night, before heading back to Victoria to take on the Bombers on Thursday for Harley Davidson Bike night.