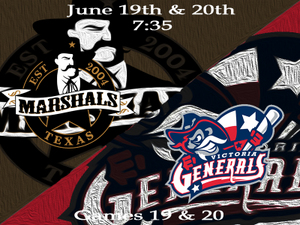 Victoria, TX – General split the series with the Marshals in a 2-0 losing effort tonight. Fans were treated to stellar performances from both teams pitching staff. Sullivan Stadler made his Generals debut tonight, going three scoreless innings, before being replaced due to a pitch count. Brandon Texiera pitched seven shutout innings for the Texas Marshals, picking up the win to go along with it.
The Marshals would strike for the first run of the game in the 5th inning. Oliver Christensen scored Mason Mantle on a RBI single off of Generals pitcher Troy Ward. Ward gave up one run on two hits, in two innings of work.
Mantle wasn't done offensively just yet, as he plated up a RBI single to score Casey Mullennix in the 7th. Mantle's RBI would be the only run scored off of Generals pitcher James Swan, who recorded three strike outs, with one hit in two innings of work.
The two runs were enough to put the Generals away as the bats went silent tonight. The Generals hit a combined .156 as a team, with Alvaro Rondon recording two out of the five total hits.
With that lost, the Generals fall to 13-6 on the season, while the Marshals advance to 4-15. The Generals will travel to Lafayette, to take on the Acadiana Cane Cutters on Saturday night in the first game of a two-game series starting at 7:05.