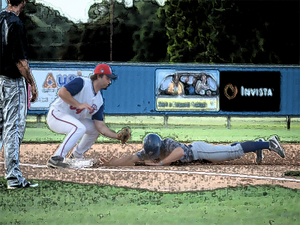 Generals fall to the Brazos Valley Bombers by a score of 6-0, the Generals struggled early with pitching in the first two innings and there was no offense to back it up. A couple of Generals stood out offensively, Alvaro Rondon went two for three with two singles, a walk and two stolen bases. J.B. Moss, another General to stand out tonight in this offensive shut down went two for four with a double in the 4th inning and a single in the 9th to lead off.
In the 1st inning, Bombers Logan Nottebrok, hit a two run homerun off Generals starting pitcher Nolan Trabanino to make it 2-0. The struggles continued into the 2nd inning where Trabanino would give up another two runs making the score 4-0.
Scoring would go silent from the 3rd to the 5th inning, Trabanino's night would be over after the 5th and Kris Looper would come in to relieve at the start of the 6th. Looper gave up one run in the 6th inning from an RBI single and in the 7th, Bombers Logan Nottebrok would hit his second homerun of the night making the score 6-0.
The Bombers would go onto win the game by a score of 6-0. The Generals take one of two in this series and move back down to second place in the TCL standings with this loss. They are a game back and will face off against the Texas Marshals for a two game series starting Thursday at 7:35pm, Riverside Stadium. Come on out for Compadres Ink Thirsty Thursday for dollar 12oz draft beer and watch the Generals retake first place in the TCL.