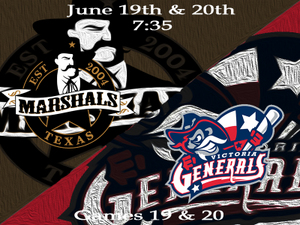 Your Victoria Generals close out the four game home stand with a two game series against the Texas Marshals on Thursday and Friday.
Thursday night is a Compadres Ink Thirsty Thursday. All 12oz draft beer will be a $1 and tumbler refills will be $2.50. So come on out and cheer on your Victoria Generals with a $1 beer, Double Daves Pepperoni rolls, or a pulled pork sandwich.
Be sure you come prepared for $1 hot dogs and $1 16oz Pepsi fountain drinks on Friday night. We will be providing great baseball and entertaining games for the entire family to play!
The Generals will head out on the road for the next four games. They leave to take on Acadiana for a two game series starting Saturday Night at 7:05. Once they wrap up with the Cane Cutters, they head to the Woodlands for a two game series starting Tuesday Night. You can catch all the Generals action on the road via Ustream or on our social media pages (Facebook - Victoria Generals or Twitter - @VicGeneralsTCL)
Thank you for you support, and GO GENERALS!