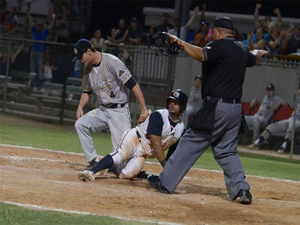 Generals beat the Woodlands Strykers with a walk off wild pitch scoring Pedro Barrios from third base in the 9th inning with two outs. The Generals avoid going into extra innings tonight which has been the common theme for the Generals of late. The Generals gave it their best tonight to take care of business at Riverside Stadium.
The Stykers struck first tonight in the 1st inning off of a single from Strykers designated hitter Kevin Santana. In the 2nd inning the Strykers scored one run off of a single from Nathan Halas.
Generals starting pitcher Bryce Welborn started off shaky giving up those two runs in the 1st and 2nd inning but seemed to settle down until he got into a bit of trouble in the 5th. Welborn got out of the 5th inning unscathed, despite control problems and turned the game over to Kris Looper who stepped in to relieve Welborn in the 6th.
Looper came in and did what was asked of him by skipper Jonathan Burns, going four strong innings allowing one run and striking out three. The Generals had a huge 7th inning scoring three to take the lead 3-2, thanks to a couple wild pitches and a fielder's choice.
Going into the 8th inning Looper had pitched fantastic and would only allow one run off the bat of Strykers Chad Vanaman who hit a single to score Shane Adams. The Generals came up in the 9th determined to finish this game off without extra innings. Pedro Barrios led off with a single and advanced to third base thanks to Justin Pacchioli. Barrios would then score on a wild pitch to give the Generals a walk off win here at Riverside. With the win, the Generals improved to 9-3 on the season, tied for first place in the TCL.
The Generals finish up this two game series with the Strykers tomorrow night at 7:35pm at Riverside Stadium. Don't forget tomorrow night is Pepsi Night at the Park with dollar fountain drinks and dollar hot dogs all night long at the ballpark.