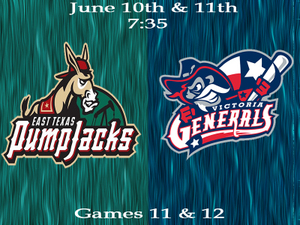 The Generals take their third game in a row Wednesday night, completing the two game sweep of the East Texas Pump Jacks. Nolan Trabanino got his first win of the season, striking out four batters and only allowing three runs on three hits.
The Generals handed Ray Messner of the Pump Jacks the loss, his second of the season.
The offense didn't get started for either team until the 3rd inning, when the Pump Jacks brought in three runs, two of them coming off the bat of Matthew Dickey. Connor Hornsby also brought in a run. Drew McLaughlin, Nick Rabat, and James Lear all crossed home plate in the top of the third.
The Generals would not take the surge lying down, and came back in the third with five runs of their own. Dayfran Ortiz brought in two runs with a single. Pedro Barrios, Alvaro Rondon, Kyle Danford, Brian Portelli, and Dayfran Ortiz all scored for the Generals in the 3rd.
Pitcher Ray Messner was taken out of the game after 5 and one third innings. Messner allowed five runs and five hits, committing one error in his campaign on the mound.
The Generals expanded their lead to 6-3 when Matthew Burks drove in J.B Moss late in the 5th inning.
Stuart Springer relieved Nolan Trabanino in the 7th inning. Trabanino struck out four batters in his 6 inning stand, allowing four hits and three runs.
Kyle Garvin, who had relieved Messner in the 5th, was subbed out in the 7th by Jacob Byrd. Garvin gave up two hits and one run in his two innings.
The bats were quiet until the bottom of the 8th, when pinch hitter Blake Cooper hit a base clearing three run double, giving the generals a 9-3 lead. Troy Ward subbed out Stuart Springer in the top of the 9th to close the game out. Allowed one hit and struck out one batter in his two innings on the mound.
The Generals continue their home stand against the Woodland Strykers on Thursday night. Come on out to Riverside Stadium for the first Thirsty Thursday of the season at 7:35pm