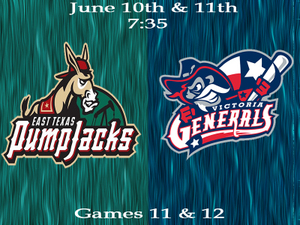 Victoria, TX - The Victoria Generals pulled out the win again in extra innings by a score of 4-5 on Tuesday night in Victoria. In what has become a common theme for Generals, the game took a couple extra innings to decide a winner. The Generals went through three pitching changes, but the star of the night was Ty Schlottmann, who had six consecutive strikeouts. Pump Jacks pitcher John Jaeger was handed his first loss of the season, allowing three hits and one run.
Jeff Chesnut came in to the game in the 10th and pitched the last two innings for the Generals, getting the win. Chesnut allowed no hits and only walked two batters in his two innings of play.
Darren Lauer had a less than stellar effort, allowing two runs on 10 hits throughout his six innings.
The Generals drew first blood in the bottom of the first inning on a walk thrown while the bases were loaded. Alvaro Rondon scored the run and Cedric Vallieres was granted the RBI.
Taylor Hearn, who was recently drafted by the Minnesota Twins in the 29th round of the MLB draft, started for the Generals and pitched the first three innings. His first two innings were stellar efforts, as he sat down six consecutive Pump Jack batters.
The wheels fell of the Hearn train in the 3rd inning, however, when the Pump Jacks brought in their only four runs of the game pushing their lead to 4-1. Reynaldo Echenique, Taylor Bailey, Matthew Dickey, and Chris Osborne all scored during the 3rd inning. Despite the onslaught of runs in the 3rd, Hearn still only allowed one hit.
Ty Schlottmann relieved Hearn in the 4th inning and shut the Pump Jacks down in the five innings he played. Shlottmann only allowed two hits and struck out 11 batters in his time on the mound.
There wasn't another run until the 7th inning when Matthew Burks hit a double shot straight in to center field, allowing two unearned runs to come in. Kyle Danford had reached base due to an errant pass from the third baseman and Paiz got to first on a fielder's choice. Once the inning came to an end, Marshall Kasowski would come into relieve.
The scoreboard would not light up again until the 11th inning, when Cedric Vallieres recorded his third RBI and sent new comer J.B Moss home, winning the game for the Generals and giving the Pump Jacks their second consecutive loss.
The Generals and Pump Jacks will meet again on Wednesday night for game two of the two game series at 7:35 P.M at Riverside stadium. Fans just a reminder, Wednesday's game will be Wingstop Wednesday. Fans can play baseball bingo, and if your Generals win…you can redeem your ticket at Wingstop for five FREE wings on Thursday