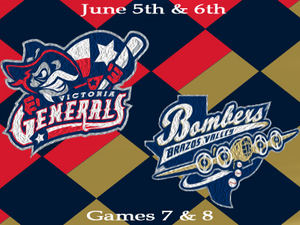 Bryan, TX - The Generals have done it again, extra innings at the Brazos Valley Bombers. The Generals improve their extra inning record to 2-1 on the season as they beat the Bombers 6-3. Brian Portelli goes three for six with two RBI's, a single and a homerun.
James Swan from the University of Texas started for the Generals and recorded five strikeouts only giving up one earned run on one hit in five innings. Swan shakes off his first start of the year against the Marshals and pitches significantly better tonight.
Brian Portelli from Florida International University had the only two RBI's in the first nine innings of play for the Generals. A RBI single in the first scored Justin Pacchioli and a solo homerun in the 3rd gave the Generals a 2-0 lead.
Bryce Welborn from San Jacinto Community College came in for relief in the 6th and pitched six strong innings with five strikeouts, only allowing one hit and one run. That run came in the 10th and tied the game back up after the Generals took the lead earlier in the inning.
The 11th inning went scoreless and on came the 12th, the Generals marched in and took care of business scoring three runs to put the lead at 6-3. Cedric Vallieres hit a big time three RBI double to put the lead out of reach for the Bombers.
In the bottom of the 12th, Head Coach Jonathan Burns gave outfielder Matthew Burks from Eastern New Mexico University the ball and let him close down the game only allowing one base runner. Burks has been creating quite a stir by being a position player coming in to pitch lights out when the Generals need it the most. He has not allowed a single run in 5.1 innings pitched with three strikeouts.
The Generals improve their record to 5-1 and take sole possession of first place in the Texas Collegiate League. They take on the Bombers again at 7:05