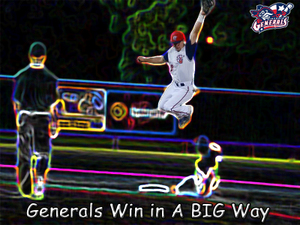 Victoria, TX - The Generals came through in grand fashion tonight against the Texas Marshals, overwhelming their opponent by a score of 14-4. Many of you may not believe it, but the game only lasted nine innings. The Generals have had two extra-inning games this season, both at least 13 innings a piece.
Your Warrior Supply Warior of the Game, Dayfran Ortiz, went 2-4 with a double, homerun and five RBI's. Nolan Trabanino from the University of Texas San Antonio pitched six strong innings with six strikeouts and allowed two earned runs. Trabanino just arrived in Victoria this week and was immediately put into action.
The 1st inning of play set the pace for the Generals, as they took advantage of the Marshals errors and hung four runs.
The second inning was huge, as the Generals opened the gates and scored six runs giving them an 11-2 lead. David Paiz started it off with a single and the Generals would not go three down until the whole lineup batted around. Paiz along with Blake Cooper and Pedro Barrios batted twice in the 5th. Another notable stat for the 5th was Matthew Burks hitting his first homerun on the season.
Another great note after tonight is that the Generals only used two of their pitchers after a long game Tuesday, giving the pitching staff plenty of rest for their two game series against the Brazos Valley Bombers starting Thursday.
The 4-1 Generals take on the Brazos Bombers in a two game series on the road starting tomorrow at 7:05pm. Fans can catch the game on our Ustream channel with new features for a more enjoyable viewing experience. It's never too late for season tickets or to buy some Generals gear, located at the park during games or at the Generals office at 1307 East Airline Road in Victoria