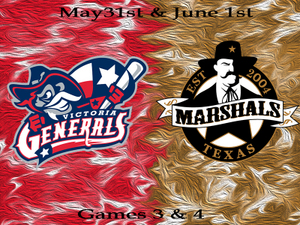 Dallas, TX – Matthew Burks and Drake Roberts came up huge for the Generals in relief tonight, as they swept the two game set from the Marshals in Dallas. Brian Portelli also contributed in a big way, as he went 3 for 6 with 3 RBI's in the 9-7 win.
The game started off very similar to the first game of the season with the Generals falling behind early and giving up a total of six runs in the 2nd inning. After pitching a 1-2-3 1st inning, James Swan was unable to get out of the 2nd, but his bullpen and hitters came through.
The comeback started in the 3rd when Alvaro Rondon led off and reached base on an error. David Paiz plated Rondon, and he and Kyle Danford would also come around to score on a single from John Elson.
Three more runs would score in the 4th inning. Pedro Barrios began the inning with a double, moved to third on Rondon's single, and scored on Justin Pacchioli's single. Rondon scored on Brian Portelli's groundout, and Pacchioli came in on David Paiz's sac fly.
The Generals had taken the lead in the top half of the 6th on a Cedric Vallieres single, which scored Danford following his double.
Burks would end up throwing 3.1 scoreless innings, only allowing four hits and one walk, while striking out three. Roberts was also masterful on the mound tonight. Following Burks, he went three strong innings. The only run off Roberts came in the 6th on an RBI double from James Stroud, which would tie the game at 7 at that point.
Portelli's big hit came in the 7th on a 2 run triple, which scored Barrios and Rondon. This would ultimately be the game-winning hit, as the relievers for the Generals would keep the Marshals at bay for the rest of the night.
Bryce Welborn took to the mound in the 9th and started shaky by hitting the first batter. He would quickly bounce back and force a 6-4-3 double play and a groundout to end the game. This brings the Generals to a 3-0 start on the season and gives Welborn his first save.
The Generals will be back in action for their home opener on Tuesday night, June 3 as they welcome the Marshals to town. The first pitch is set for 7:35, but make sure to be there early. The first 200 fans will receive a Victoria Generals Game Day Poster presented by LASERWORLD.