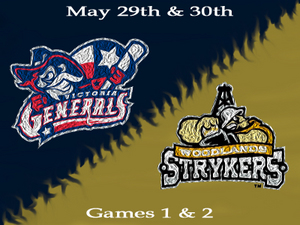 The Victoria Generals came out with a win on their season opener against the Woodland Strykers on Friday night. The Generals won in 12 innings by a score of 9-8. The Generals fell behind early in the game due to errors and were not able to find their offense until the top of the third inning when they cranked in two runs.
Argenis Angulo made the start for the Generals Friday. The team started off shaky and allowed 4 runs, all unearned in the first inning. However, they regained composure and didn't allow another run until Angulo was taken out in the 6th.
The Generals were able to take the lead in the 5th inning off of a David Paiz double and two errors made by the Strykers.
The Strykers responded quickly in the 6th, knocking in three runs on Bryce Wellborn who had just relieved Angulo.
Kyle Danford scored in the 8th inning on a pass ball, bringing the Generals to within one.
Cedric Vallieres made the play of the game in the top of the 9th, with his first at-bat as a Victoria General. On a 1-2 count with two outs, Cedric sent one over the fence out in left, thus tying the game at seven.
The Generals shut out the Strykers in the bottom of the inning to send the game in to extra innings. The Generals struck first in the 10th inning off of a sac fly from Paiz that brought in Dayfran Ortiz.
Alec Horvath entered the game in the 10th inning and allowed one run, tying the score once more. The 11th inning remained scoreless as both teams played stingy defense, forcing a 12th and final inning.
Alvaro Rondon got things started in the 12th with a leadoff triple to deep left center. The game winning run came off of a sac fly from Blake Cooper, bringing in Rondon and giving the Generals the advantage.
Troy Ward would come in and finish off the Strykers in the bottom of the 12th, giving the Generals their first victory of the season.
The Generals are headed to Dallas to take on former Generals GM Blake Koch and his Texas Marshals for a two game series starting Saturday. We will be on the air for a 7:05 start as Jason Switlik will bring you all the action on U-Stream.
Tickets are still available for our season opener, as the Generals will take on the Marshals for a 7:35 start on June 3rd. Just a reminder the first 200 fans will receive a game day poster schedule brought to you by LASERWORLD.