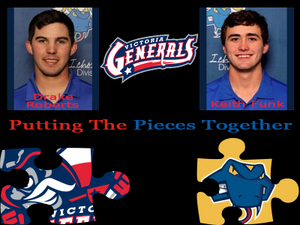 April 11, 2014 – The Victoria Generals of the Texas Collegiate League have announced the signing of two players from the St. Mary's Rattlers roster. Short stop Drake Roberts and catcher Keith Funk will suit up for the Generals as they begin their 2014 summer campaign.
"The Generals have had plenty of success over the years with players from St. Mary's, "stated Mike Yokum, GM of the Generals. "Matt McClain and Nathan Humpal were our most recent players that really contributed to the Generals success this past season."
Drake Roberts, a junior from Brenham, Texas, was selected out of high school by the Minnesota Twins in the 49th round of the 2011 MLB draft. Roberts began playing with Team USA at the age of 15 while attending high school and was named an ESPN Rise Top 10 high school short stop. Roberts played nine games his freshman season with the Oklahoma Sooners. He moved on to Navarro College his sophomore season and helped lead the team to a JUCO College World Series appearance. In 56 games played, batted an impressive .349 with 42 RBI …led the team in several categories including hits (74), runs scored (46), doubles (15) and stolen bases (26). Roberts has played in all 37 games so far this season and is currently hitting .314 and leads the Rattlers in hits with 42.
"Drake is a very gifted athlete that has really good speed," commented Yokum. "He is prototypical leadoff hitter and short stop who we'll rely on to score a lot of runs for us this summer."
Keith Funk, a sophomore catcher from San Antonio, Texas, played in 17 games with 12 starts in his freshman season. Funk was strong behind the plate with 64 putouts, six assists and only two errors. At the plate, Keith batted .279 with two doubles and six runs scored …recorded six RBIs on the season, four of which came against Colorado State Pueblo in the South Central Region Tournament. Funk this season has played in 36 of 37 games and is currently hitting .272 on the season.
"Keith has a great frame and solid range from behind the plate, commented Yokum." "He's also had a really strong season at the plate and we'll rely on him to be a run producer in our lineup."
Season tickets for the Victoria Generals 2014 season are on sale now as the Generals prepare for their home opener against the Texas Marshals on Tuesday, June 3 at 7:35pm at Riverside Stadium. Fans can buy season tickets and team merchandise at the Generals team store located at 1307 East Airline Road, Suite H in the Town & Country Shopping Center, online at www.VictoriaGenerals.com, or by calling 361-485-9522.