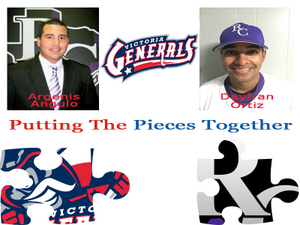 – The Victoria Generals have announced the addition of two players from Ranger College. Right-handed pitcher Argenis Angulo will make his return to the Generals along with catcher Dayfran Ortiz. Both players are off to a great start this Spring for Ranger College.
Angulo joined the team last season with just two weeks remaining and made an immediate impact. Angulo appeared in five games to end the season, only giving up one earned run with an ERA of 1.28. Ranger College has played in 13 games this Spring and Argenis has already thrown 23 innings and is among the leaders in the nation with 39 strikeouts. He currently has a 1.57 ERA with plenty of baseball ahead for Ranger College.
Angulo, a native of Araure, Venezuela, was a freshman at Ranger in 2013. Angulo appeared in 12 games and recorded 14 strikeouts in 33.2 innings on the season.
Catcher Dayfran Ortiz, who will join the Generals as a freshman, is off to a great start this season for Ranger. He is currently hitting .311 on the season and leads the team in both doubles (4) and RBI (10) and has played on all 13 games this season for Ranger College.
Ortiz, a native of Aragua, Venezuela, is in his freshman season and has already made his mark as the top starting catcher for Ranger this season. When not starting, Ortiz continues to make his way into the line-up as the designated hitter.
"We've started to build a strong rapport with Ranger College with the addition of these fine players with others possible this season, "commented Mike Yokum, Generals Vice President and General Manager. "Having a pitcher and catcher that have thrown together this Spring should pay big dividends this Summer for the Generals."
"Former Generals head coach Stephen Flora is currently the recruiting coordinator for Ranger College and continues to surface great players from Ranger, "stated Yokum. "Flora really did a remarkable job last season recruiting great players to add to the Generals roster."
Season tickets for the Victoria Generals 2014 season are on sale now as the Generals prepare for their home opener against the Texas Marshals on Tuesday, June 3 at 7:35pm at Riverside Stadium. Fans can buy season tickets and team merchandise at the Generals team store located at 1307 East Airline Road, Suite H in the Town and Country Shopping Center, online at www.VictoriaGenerals.com, or by calling 361-485-9522.