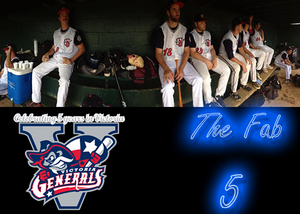 Every summer, Perfect Game CrossChecker covers the nation's top summer collegiate leagues more extensively than anyone else in the country. And every summer, PGC identifies the top professional prospects that played in each of those leagues.
This year, PGC recognized the top 30 players in the Texas Collegiate League. Five players from the Victoria Generals made the list.
Glenn Sparkman was the highest ranked player from the Generals, coming in at #6. Sparkman, a 20th round draft pick of the Kansas City Royals, was the only player on the Victoria Generals to sign professionally during the 2013 TCL season. The Generals right handed pitcher pitched in four games of the season before signing with the Royals. During that time, Sparkman pitched in four innings with giving up two hits, recording 10 strikeouts, and earning three saves. After weighing his options, Sparkman decided to leave Wharton College to pursue his dreams of playing in Major League Baseball
Kyle Keller, ranked #8 overall, was the second of five Generals pitchers named to the list. Keller, a right-hander from Southeastern Louisiana University, made 16 appearances and started six games for the Generals, posting a 2-3 record. Keller set the league high with striking out 61 batters in 46.1 innings to go along with a 3.10 ERA. Keller, now a junior, will return to Southeastern for the 2014 season.
Next on the list at #12 is another right-handed pitcher, Lucas Humpal. Lucas, who is the younger brother of former General Nathan Humpal, appeared in 4 games for the Generals. Humpal pitched 22.2 innings, earning two wins, recording 21 strikeouts, and posting an ERA of 2.77. Humpal will return as a sophomore to Texas State for the 2014 season.
Generals' relief pitcher Juan Cortina received the #25 spot. Juan, who the twin brother of former General Romeo Cortina, appeared in 20 games (including one all-star game) for the Generals. The right-hander from Humble, Texas pitched 30 innings, earning three wins and a save, recording 26 strikeouts, and posting an ERA of 2.70. Cortina transferred out of Sam Houston to join his brother at Alvin College for the 2014 season.
The final pitcher to appear on the list for the Generals was the most decorated of the group as Kaleb Keith checked in at #27. Keith was selected to the TCL All-Star game as well as being named General of the Year for the 2013 season. Keith posted a 1.55 ERA in 29 innings of work and struck out 22 batters. Keith will enter the year as a sophomore and pitch for the Islanders in the 2014 season.