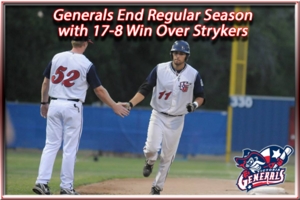 A night after scoring 16 runs on Thursday, the Victoria Generals put up a season-high 17 runs on Friday to defeat the Woodlands Strykers 17-8 in the final game of the 2013 regular season.

With the win, the Generals finish the season one game over .500 at 30-29 overall.

The Generals got the scoring started in the bottom of the first inning. Alvaro Rondon singled and came into score on a throwing error by the Strykers third baseman. Brandon Hannon then scored on a wild pitch to make it 2-0.

The Strykers tied it up at 2-2 in the top of the second on RBI singles by Ricardo Sanchez and Dalton Perry.

The Generals regained the lead at 4-2 in the third as Rondon scored on a wild pitch and Hannon scored on a David Paiz, Jr. sacrifice fly.

The Strykers tied things up again in the top of the fourth as Brian Smith hit an RBI double and Dalton Perry another RBI single.

The Strykers took a 5-4 lead in the fifth on a Dirk Masters RBI double, but the Generals responded with the runs in the bottom of the frame to make it 7-4. Romeo Cortina drilled a single up the middle to score Rondon before Paiz launched his fourth home run of the season, a two-run shot, over the left field wall.

Two more runs in the sixth made it 9-4 in favor of the Generals. Jace Reese scored on a wild pitch before Hannon singled home Rondon.

Zach Davis scored on a Master's RBI single in the top of the seventh to make it 9-6. The Generals then exploded for seven runs in the bottom of the seventh to put the game out of reach as 16-6. Jacob Hubert got the scoring started with an RBI single to score Kaleb Keith. With the bases loaded, Drew Featherston hit a two-run single up the middle as another run scored on a throwing error. Rondon lifted a sacrifice fly to right to plate Featherston. Hannon came around to score on a wild pitch to cap the inning.

An RBI ground out by Bobby Schuman made it 16-7 in the top of the eighth. The Generals then got the run back as Hubert scored on a wild pitch.

The Strykers got a run in the ninth to make the final 17-8.

Armando Arevalo picked up the win as he tossed five innings allowing five runs on eight hits with two strikeouts. Andrew Walker, Hayden Vesely, and Jace Reese each allowed one run apiece.

Rondon, Hannon, Hubert, and Reese each had three hits apiece to lead the Generals.

The Generals will host the Acadiana Cane Cutters in the first round of the TCL playoffs on Saturday night at 7:05pm at Riverside Stadium in Victoria. The winner will advance to the TCL Championship Series.

Article courtesy of the Victoria Advocate: http://www.advosports.com/news/2013/aug/09/ko_generals_playoffs_081013_216812/
Article courtesy of the Victoria Advocate: http://www.advosports.com/news/2013/aug/09/mf_generalshonors_081013_216861/
Video courtesy of Crossroads Today: http://www.crossroadstoday.com/content/sports/local/story/Generals-Win-Big/tVPmih1XtUWzmpns1e4NoQ.cspx
Video courtesy of Crossroads Today: http://www.crossroadstoday.com/content/sports/local/story/Generals-Kyle-Keller/cfIEOxiJEEmqUDaBrF1yvg.cspx
Video courtesy of Crossroads Today: http://www.crossroadstoday.com/content/sports/local/story/General-Close-Regular-Season/Vi12KhC4GEKZQ1JGnOQckA.cspx