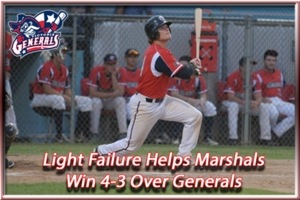 The Texas Marshals were awarded a 4-3 victory over the Victoria Generals on Tuesday night in Dallas in a shortened five-inning game due to light failure at Jesuit High School.

The Generals broke a 2-2 tie in the top of the fourth inning on a Jacob Hubert solo home run, his fourth of the season.

The Marshals answered in the bottom of the fifth inning as former General Michael McGraw hit a solo home run to tie the game at 3-3 off of relief pitcher Trey Wall. Ben McElroy then delivered an RBI double to score Zachery Marberry and give the Marshals a 4-3 advantage.

Earlier in the day, there was a grass fire reported near the field which caused electrical issues affecting the lights at the stadium. The field went dark in the bottom of the fifth inning with the Marshals holding a 4-3 lead. Since the contest was past the official game mark of five and a half innings, the Marshals were awarded the win.

The Marshals jumped out to a 2-0 lead in the bottom of the second inning on two unearned runs off of Generals starting pitcher Kyle Keller after a fielding error by Jace Reese at first base with two outs.

The Generals responded in the top of the third inning as David Paiz, Jr. slugged a two-run single to score Alvaro Rondon and Brandon Hannon to tie the game at 2-2.

Trey Wall took the loss for the Generals. Kyle Keller got the start and pitched three innings, allowing the two unearned runs on two hits with two strikeouts.

With the loss, the Generals fall to 28-28 on the season and 11-15 in the second-half. The Marshals improve to 18-39 overall and 9-18 in the second-half.

The two teams will meet again on Wednesday night at 6:00pm for game two of the two-game series at Jesuit High School in Dallas.
The Generals found out on Tuesday night who their opponent will be in the opening round of the 2013 TCL playoffs. With a 7-2 win over East Texas Pump Jacks on Tuesday night, the Acadiana Cane Cutters have clinched the number three seed in the postseason. The Generals, who earned the number two seed by finishing in second place in the first-half TCL standings, will host the Cane Cutters in a one-game playoff on Saturday night at 7:05pm at Riverside Stadium in Victoria. The winner will advance to the TCL Championship Series.