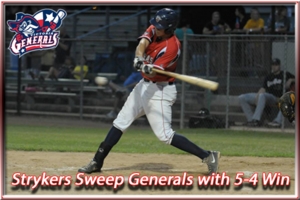 The Woodlands Strykers completed a two-game sweep of the Victoria Generals on Friday night with a 5-4 win at The Woodlands Christian Academy. It was the second night in a row that the Strykers won a one-run game over the Generals. The Generals have now lost three straight games.

J.B. Moss was hit by the first pitch of the game by Strykers starting pitcher Will Hibbs. Hayden Vesely followed with a single to right field to advance Moss to third base. Moss would come into score later in the inning on a J.D. Arrowood RBI groundout.

The Strykers tied the game up at 1-1 on the bottom of the second inning on a Vesely error at second base.

The Strykers made it 3-1 in the bottom of the third on a wild pitch an RBI single by Taylor Taska.

The Generals cut the Strykers lead to 3-2 in the top of the fourth inning as Aaron Morgan scored on a Strykers error.

The Strykers would answer with a run in the bottom of the fifth to extend the lead to 4-2 on an RBI double by Ricky Sanchez.

The two teams traded runs in the sixth inning to make it 5-3. J.B. Moss came into score on an Alvaro Rondon single for the Generals and Bobby Schuman hit a solo home run for the Strykers.

The Generals added a run in the seventh inning Kyle Thornell hit a shot back up the middle to score Arrowood to make it a 5-4 ballgame. But that would be it for the Generals as they went quietly in the eighth and ninth innings.

Kyle Keller took the loss for the Generals, allowing three runs on three hits in four innings with four strikeouts. Juan Cortina pitched the final four innings, allowing two runs on four hits with six strikeouts.
Arrowood led the Generals at the plate going 2-for-5 with a double, an RBI, and a run scored.
With the loss, the Generals fall to 21-20 on the season and 4-7 in the second-half. The Strykers improve to 14-28 overall and 5-7 in the second-half.
The Generals will continue on their four-game road trip to Kilgore to face the East Texas Pump Jacks on Saturday and Sunday nights at 7:05pm at Driller Park.
Box Score:
http://tcl-generals.bbstats.pointstreak.com/boxscore.html?gameid=139748