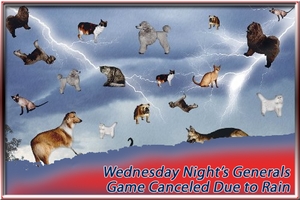 Tonight's game on Wednesday, July 17 between the Victoria Generals and East Texas Pump Jacks scheduled for 7:05pm at Riverside Stadium has been canceled due to rain. The game will not be rescheduled or made up since the Pump Jacks do not return to Victoria the rest of the season.
All tickets for Wednesday night's game can be redeemed for admission to any other Generals home game the rest of the 2013 season.
The Generals begin a four-game road trip on Thursday night in The Woodlands as they take on the Strykers at 7:05pm at The Woodlands Christian Academy.
The Generals next scheduled home game is Thursday, July 25 at 7:05pm against the Brazos Valley Bombers.