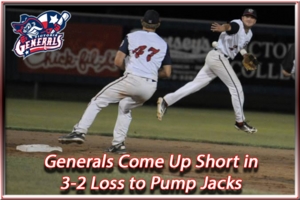 The East Texas Pump Jacks completed a two-game sweep of the Victoria Generals in Kilgore on Wednesday night with a 4-2 win to complete the first-half of the 2013 Texas Collegiate League season.

Trailing 4-0 in the ninth inning, the Generals made an attempt at a comeback, full fell just a little short. Kyle Thornell and Aaron Morgan walked to start the inning. Thornell then came into score on a Drew Featherston RBI single. After J.B. Moss walked to put the tying run on first base with one out, Hayden Vesely hit into a fielder's choice to plate Morgan. But the Generals comeback attempt would end there as Romeo Cortina grounded out to end the game.

The Generals offense was unable to solve Pump Jacks starting pitcher Nick Rossetta who tossed eight shutout innings, allowing just five hits with eight strikeouts to pick up the win.

Matt McClain held the Pump Jacks offense at bay until the fourth inning when they scored three runs. McClain allowed three hits and four walks through his four innings pitched with five strikeouts.

Nathan Humpal came on in relief and allowed a run in the sixth inning to give the Pump Jacks a 4-0 advantage. Humpal surrendered just one run on four hits with three strikeouts.

Kaleb Keith pitched a scoreless eighth inning with two strikeouts.

Vesely and Featherston each recorded two hits and had an RBI apiece.

With the loss, the Generals finish the first-half in second place with a 17-13 record and the Pump Jacks finish in third at 15-15. The Generals have secured the number two seed in the TCL playoffs come August. The Generals will host a home playoff game on August 10 against the number three seed.

The Generals will kick-off the second-half of the TCL season with a four-game home stand from Thursday-Sunday. The Generals will take on the Acadiana Cane Cutters at 6:00pm on Thursday night at Riverside Stadium in the first game of a two-game series. It will be Thirsty Thursday presented by Beef 'O' Brady's with $1 draft beer on the party deck all game long. A portion of the game's proceeds will go to benefit Warrior's Weekend via a raffle during the game.
Box Score: http://tcl-generals.bbstats.pointstreak.com/boxscore.html?gameid=139616
Article courtesy of the Victoria Advocate: http://www.advosports.com/news/2013/jul/03/generals_070413_213885/
Warrior Supply Warrior of the Game - Nathan Humpal: http://www.youtube.com/watch?v=p-Oa-IizVV0