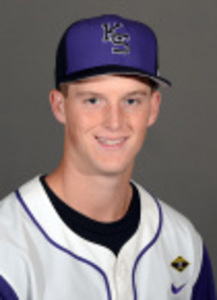 July 3, 2013 – The Victoria Generals have already clinched a second-place finish in the first-half Texas Collegiate League standings which means that they have also secured the number two seed in the TCL playoffs come August. The Generals will host a home playoff game on August 10 at Riverside Stadium in Victoria against the number three seed.
The Brazos Valley Bombers (24-5) are the TCL first-half champions and will have the number one overall seed in the 2013 post season.
The first-half of the season comes to a close tonight for the Generals (17-12) as they take on the East Texas Pump Jacks at Driller Park in Kilgore at 7:05pm.
The Generals have added right-handed pitcher Zack Vasek from Kansas State University to the roster for the second-half of the season. Vasek, a native of Rosenberg, will join the Generals on Thursday night as they kick-off the second-half with a home game at Riverside Stadium against the Acadiana Cane Cutters at 6:00pm.
Vasek redshirted at KSU and is currently trying to decide where he will transfer to in the fall. As a senior at Lamar Consolidated High School, Vasek was named the 2012 district MVP as well as the Houston Area 4-A Pitcher of the Year after going 9-2 with a 1.45 ERA and one save. Vasek accumulated 102 strikeouts in 72.1 innings of work as a senior. He was also named the Fort Bend Herald All-Area MVP in 2012 and was a Houston Area Baseball Coaches Association All-Star Game selection.
The Generals start the second-half of the TCL season with a four-game home stand at Riverside Stadium Thursday-Sunday. Thursday night is Warrior's Weekend Night. There will be a raffle at the game with lots of great prizes. The proceeds will go to benefit Warrior's Weekend.
Friday night is Fastop Ozarka Free Ticket Night. All fans that stop by any Fastop or Cimarron location in Victoria and purchase an Ozarka product will receive a free ticket to Friday night's game. Game time is 7:05pm against the Cane Cutters.