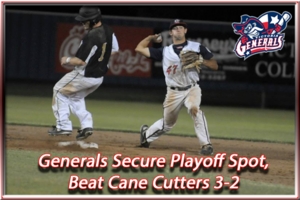 The Victoria Generals used three sacrifice flies to sneak past the Acadiana Cane Cutters on Saturday night in Victoria by a final score of 3-2. With the win, the Generals secured a second-place finish in the first-half of the 2013 Texas Collegiate League season, which in turn secures the number two seed in the TCL postseason come August.
The Cane Cutters and Generals traded runs in the first inning. Jace Statum scored on an RBI infield single by Cane Cutter's catcher Mitchell Nau that ricocheted off of the infield umpire. Jace Reese lifted a sacrifice fly to right field to plate J.D. Stinnett and make it 1-1.
The Cane Cutters took the lead at 2-1 on an error by Stinnett at shortstop in the fifth inning. But the Generals were able to tie things up at 2-2 in the sixth on a sacrifice fly by Romeo Cortina to score Jacob Hubert.
The Generals third sacrifice fly of the game turned out to be the game winner as Hayden Vesely scored J.B. Moss in the seventh inning.
J.P. Clifton tossed six innings for the Generals, allowing just two runs, one earned, with three strikeouts and no walks. Kris Looper, picked up the win in his Generals debut. Looper pitched the final three innings without allowing a run. He allowed just two hits and one walk and struck out three.
The Generals offense recorded just two hits in the game. Jacob Hubert and Frank Cloutier each had one apiece.
With the win, the Generals improve to 16-11 on the season and the Cane Cutters fall to 12-15.
The Generals now know that they will host an opening round game in the TCL postseason on August 10 at Riverside Stadium against the number three seed.
The Generals and Cane Cutters will play game two of the series on Sunday night at 7:05pm at Riverside Stadium.