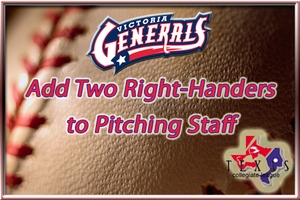 Right-handed pitchers J.P. Clifton from Stephen F. Austin State University and Kris Looper from Alvin Community College have been added to the Victoria Generals pitching staff as the first half of the Texas Collegiate League season winds down. The Generals are currently in second place in the TCL standings with a 15-10 record and five games remaining in the first-half.
Clifton, a native of Lufkin, redshirted at SFA this spring after transferring from Northwestern State University in Louisiana. As a junior at Northwestern State, Clifton appeared in 10 games and went 1-0 with a 4.58 ERA. He struck out 13 batters in 19.2 innings.
Prior to his time at Northwestern, Clifton played two seasons at Angelina College.
Clifton made his first appearance for the Generals in Tuesday's 6-2 win over the Texas Marshals in Dallas. Clifton allowed just two hits in two innings with one strikeout and one walk and did not allow a run. He is expected to make his first start of the summer season on Saturday night as the Generals host the Acadiana Cane Cutters at Riverside Stadium at 7:05pm.
Looper, a native of Wharton, recently completed his sophomore season at Alvin where he went 5-3 on the season with seven saves. Looper struck out 26 batters in 35.1 innings to go along with a 2.02 ERA.
As a freshman, Looper went 2-4 with one save and a 5.01 ERA.He struck out 39 batters in 46.2 innings.
The Brazos Valley Bombers (21-4) have clinched the first-half championship and the number one overall seed in the 2013 post season. The top two teams in the first-half of the season automatically clinch a post-season berth according to league rules. If the Generals are able to secure a second-place finish in the first-half, they will receive the number two seed in the playoffs and will host the opening round game on Saturday, August 10. The Generals still have five games to go in the first-half which consists of the first 30 games of the season. The first-half ends on July 3.