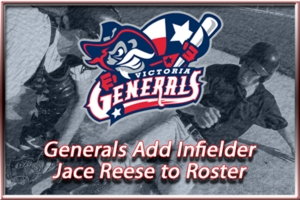 The Victoria Generals are currently in second place in the Texas Collegiate League standings with a record of 13-9 and will look to clinch a playoff spot this week by holding onto their position.
The Brazos Valley Bombers (19-3) clinched the first-half championship and the number one overall seed in the 2013 post season with a 7-1 win over the Generals on Sunday night. The top two teams in the first-half of the season automatically clinch a post-season berth according to league rules. If the Generals are able to secure a second-place finish in the first-half, they will receive the number two seed in the playoffs and will host the opening round game on Saturday, August 10. The Generals still have eight games to go in the first-half which consists of the first 30 games of the season. The first-half ends on July 3.
The Generals have added infielder Jace Reese to replace Alex Klonowski who left the team earlier in the week due to personal reasons. Reese, a native of Forney, Texas, recently completed his freshman season at Cisco College where he hit .272 on the season and let the team in home runs with five. Reese added seven doubles, two triples, 24 RBIs, 25 runs scored, and 15 walks.
The Generals hit the road on Tuesday for Dallas to kickoff a four-game road trip starting with the Texas Marshals. The Generals return home on Saturday to take on the Acadiana Cane Cutters at 7:05pm at Riverside Stadium in Victoria.
Article Courtesy of the Victoria Advocate: http://www.advosports.com/news/2013/jun/24/generals_add_player_062513_213054/