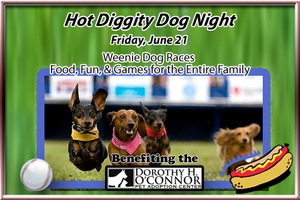 The fourth annual Hot Diggity Dog Night with the Victoria Generals and Dorothy H. O'Connor Pet Adoption Center will be held on Friday, June 21 at Riverside Stadium before the Victoria Generals game against the Brazos Valley Bombers which begins at 7:05pm.

Registration for the Weenie Dog Races will take place starting at 5:00pm and will end promptly at 5:45pm. The preliminary races will begin at 6:00pm. The two top dogs will race on field between the second and third innings of the baseball game. The top two dogs will receive a trophy.

All racers must be current on vaccinations and provide proof of rabies vaccination. Only dogs registered to race will be allowed in the park. The registration fee is $20.00 and includes one adult general admission ticket to the Generals baseball game. All registration fees benefit the Dorothy H. O'Connor Pet Adoption Center.

Early registration can be done at the Dorothy O'Connor Pet Adoption Center at 135 Progress Dr., via phone at 361-575-8573, or by faxing the registration form to 361-575-8575.
Registration Form: http://victoriagenerals.com.ismmedia.com/ISM3/std-content/repos/Top/Content/2013%20Hot%20Diggity%20Dog%20Night%20-%20Entry%20Form.pdf