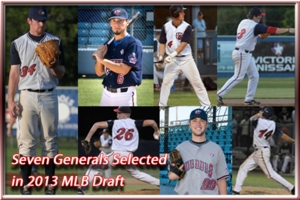 June 9, 2013 – The Victoria Generals of the Texas Collegiate League saw three current and four former players selected in the 2013 Major League Baseball draft on Saturday, brining the organization's total number of players drafted in the past five years to 23.
Former Generals right-handed pitcher Dillon Newman of Baylor University was the first former General off the board as he was selected in the 16th round by the Houston Astros. Newman pitcher for the Generals last summer in 2012 and went 3-1 on the season with one save. Newman posted a 1.51 ERA and struck out 41 batters in 35.2 innings.
Current Generals closer Glenn Sparkman from Wharton County Junior College was taken in the 20th round by the Kansas City Royals. Sparkman is already off to a sizzling start for the Generals this summer, striking out 10 batters in four innings. Sparkman has allowed just two hits and has notched three saves.
Former Generals pitcher Ethan Carnes from the University of Oklahoma was the next to go as he was taken in the 21st round by the New York Yankees. Carnes pitched for the Generals back in 2011 and went 1-2 with a 2.59 ERA. Carnes struck out 29 batters in 24.1 innings.
Taylor Terrasas, a member of the 2010 Generals, was selected in the 30thround by the Cincinnati Reds. Terrasas just completed his senior year at Louisiana Tech University. Terrasas hit just .146 for the Generals with 2 doubles, seven RBIs, and 10 runs scored that summer.
Current Generals third baseman Kyle Thornell from McLennan Community College was then taken in the 34th round by the Colorado Rockies. Thornell is hitting .333 for the Generals so far this season with three doubles, one RBI, and four runs scored in just 21 at bats.
Another current Generals third baseman, Mac Seibert, was taken in the same round as Thornell, the 34th, by the Atlanta Braves. Seibert is hitting .324 in eight games for the Generals so far this season. He has one double, five RBIs, and four runs scored in just 34 at bats.
The final former General to hear his named called in the 2013 draft was outfielder Eric Weiss from Texas A&M University – Corpus Christi. Weiss was taken in the 35th round by the Los Angeles Angels. Weiss was a member of last summer's 2012 Generals team where he hit .288 on the season with seven doubles, two triples, five home runs, 27 RBIs, 29 runs scored, and 24 walks.
The Generals are currently 7-2 on the season and take on the Woodlands Strykers tonight at 7:05pm at Riverside Stadium in Victoria.