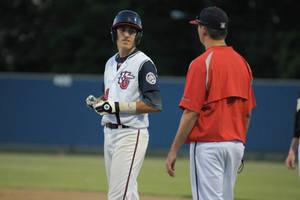 The Victoria Generals took down the Woodlands Strykers 2-1 on Saturday night as the Generals played a clean game in front of a packed house for the team's 5th annual Diamonds on the Diamond event presented by Torin Bales Fine Jewelry.
The Generals pitching staff was stellar once again as Josh Urban turned in another solid performance. Urban retired the first 13 batters he faced in the game and ended up allowing just one run on three hits with six strikeouts in six innings to pick up his second win of the season. Kyle Keller tossed two innings of scoreless relief without allowing a hit and struck out three. Glenn Sparkman, who was drafted earlier in the day by the Kansas City Royals in the 20th round, notched his third save of the season by striking out the side in the ninth.
The Generals first run of the game came in the third inning as Drew Featherston led off the inning with a double, moved to second on a sacrifice bunt by Frank Cloutier, and came into score on an RBI ground out by Jacob Hubert. Hubert currently leads the TCL with 15 RBIs.
The Generals made it 2-0 in the fourth. Jordan Camel started the inning with a single, advanced to third on a double by Kyle Thornell, and came into score on a RBI ground out by Nathan Humpal.
With the win, the Generals improve to 7-2 on the season and the Strykers fall to 2-6
Thornell and Camel led the Generals with two hits apiece. Thornell also heard his named called in the Major League Baseball draft on Saturday as he was selected in the 34th round by the Colorado Rockies.
Generals third baseman Mac Seibert, who did not play on Saturday, was also drafted, going in the 34th round to the Atlanta Braves.
Four former Generals heard their names called in the draft as well. Dillon Newman, who pitched for the Generals last summer in 2012, was selected in the 16th round by the Houston Astros. Pitcher Ethan Carnes was a part of the Generals 2011 team and was taken in the 21st round by the New York Yankees. Taylor Terrasas, an infielder for the Generals back in 2010 was selected by the Cincinnati Reds in the 30th round. And former outfielder Eric Weiss from the 2012 Generals team was taken in the 35th round by the Los Angeles Angels.
The Generals and Strykers will play game two of the series on Sunday night at 7:05pm at Riverside Stadium. It will be Little League Night at the game as all kids in uniform will be let in for free.
Article courtesy of the Victoria Advocate: http://www.advosports.com/news/2013/jun/08/mf_generals_sparkman_060913_211817/
YouTube Videos: http://www.youtube.com/user/VictoriaGenerals?feature=guide