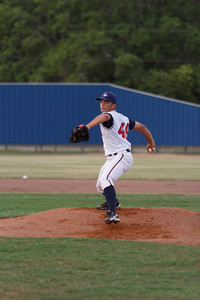 The Victoria Generals are off to a hot 5-1 start to the 2013 Texas Collegiate League season and continue to add depth to the roster to help solidify the team. Victoria native Jordan Pacheco has been added along with newcomers Jordan Camel and J.D. Stinnett.
"It's great to see Jordan back in a Generals uniform," commented Blake Koch, Victoria's vice president and general manager. "We've been a little short on catchers and infielders here early in the season, so Jordan and J.D will be a big help as well."
Pacheco, a member of the 2012 All-TCL team as a right-handed pitcher, was the Generals ace last summer. Pacheco went 6-2 on the season and tied for the league-lead in wins during the regular season. He finished third in the TCL in both ERA (1.90) and strikeouts (50). Pacheco had his best outing of the summer in his only post-season start, leading the Generals to an opening game win against the East Texas Pump Jacks in the TCL Championship Series. Pacheco tossed seven innings, allowing just one run on three hits with a season-high nine strikeouts.
Pacheco recently completed his sophomore season at the University of Texas – San Antonio where he went 7-2 on the year with a 4.25 ERA. Pacheco struck out 40 batters in 72 innings.
Pacheco will make his first start of the summer this Sunday in Victoria against the Woodlands Strykers.
"Jordan had a special season last summer," stated Koch. "We're hoping he can duplicate some of that success here in 2013."
Jordan Camel, a junior catcher from Stephen F. Austin State University, was recently added to the roster after Generals signees John Bormann (UTSA) and C.J. Manning (St. Edward's) were injured at the end of their collegiate seasons. Camel, a native of Richmond, got his first start in a Generals uniform last night and went 2-for-4 with an RBI and two runs scored.
Camel hit .271 at SFA this season with five doubles, 10 RBIs, six runs scored, and seven walks. Camel transferred to SFA following his sophomore year at Alvin Community College where he hit .341 with a home run and 28 RBIs.
"Jordan was a big pickup for us after losing out on both Bormann and Manning," Koch commented. "We'll rely on him to carry the bulk of the catching duties along with Aaron Morgan."
J.D. Stinnett, a freshman from Texas State University, recently joined the Generals as well. Stinnett, a native of Brock, Texas, appeared in 42 games this year for the Bobcats, hitting .229 with two doubles, 11 RBIs, and 22 runs scored.
Stinnett turned into the Bobcats everyday second baseman after being a first-team all-state shortstop his senior year at Brock High School.
"J.D. if very athletic and can really handle the bat offensively," stated Koch. "He'll be able to slide over to short some nights to give Drew Featherston a day off when needed."
The Generals are in Kilgore tonight to take on the East Texas Pump Jacks (3-2) at 7:05pm. The Generals return home on Saturday night to take on the Woodlands Strykers at Riverside Stadium. Saturday is the fifth annual Diamonds on the Diamond event presented by Torin Bales Fine Jewelry. The first 100 women ages 18 and older at the game on Saturday will be registered for the chance to win lots of great prizes, including the grand prize: diamond earrings from the Torin Bales Collection valued at $1,400. Gates open at 6:00.
Fans can purchase tickets and merchandise at the gate, at the Generals front office located at 1307 East Airline Road, Suite H, online at www.VictoriaGenerals.com, or by calling 361-485-9522.