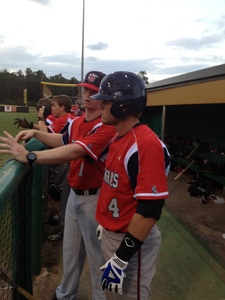 The Victoria Generals defeated the Woodlands Strykers by a final score of 8-4 on Friday night in The Woodlands to sweep the opening series of the 2013 Texas Collegiate League season.

The Generals got on the board in the top of the 1st inning for the second straight game. Brandon Hannon (Emory) singled to lead off the game and came around to score on an RBI single by Mac Seibert (Meridian CC).

The Strykers responded with an unearned run in the bottom of the 1st to tie it up at 1-1.

The Generals answered with three runs in the top of the 2nd inning to take a 4-1 lead. Jacob Hubert (A&M-Corpus Christi) singled and stole second base. After a walk to Hannon, Romeo Cortina (Sam Houston) was hit by a pitch to load the bases. Hubert came in to score on a wild pitch before Hayden Vesely (Blinn) hit an infield single to score Hannon. Cortina was hustling the whole way from second and came around to score on the play, just beating the throw to the plate.

The Strykers cut the Generals lead to 4-3 in the 4th on RBI doubles by Brian Smith and Taylor Taska.

The Generals and Strykers traded runs in the 5th inning to make it a 5-4 game. Cortina lead off with a single, stole second base, advanced to third on a David Paiz, Jr. (Texas State) single, and came in to score on a wild pitch.

The Generals extended their lead to 6-4 in the 7th when Seibert walked and came around to score on an error by the Strykers first baseman. The Generals added two insurance runs in the top of the 9th inning on RBI singles by Aaron Morgan (Rganer) and Hubert.

Generals starting pitcher Toller Boardman (Texas) tossed five innings, allowing four runs (two earned) on four hits with seven strikeouts and just one walk to pick up his first win of the season. Daniel Tunchez, Jr. (Eastfield) pitched a scoreless 6th and 7th inning before giving way to Kaleb Keith (A&M-Corpus Christi) who threw a scoreless 8th. Glenn Sparkman held the Strykers scoreless in the 9th inning for the second straight night to secure the 8-4 victory.

Seibert and Hubert had three hits apiece for the Generals as they improve to 2-0 on the season. The Strykers fell to 0-2.

The Generals will travel to Lafayette, Louisiana on Saturday to take on the Acadiana Cane Cutters in a two-game series before returning to Victoria for the home opener on Tuesday, June 4 at 7:05m at Riverside Stadium. Magnet schedules will be given away to the first 1,000 fans in attendance courtesy of City Mortgage Group.