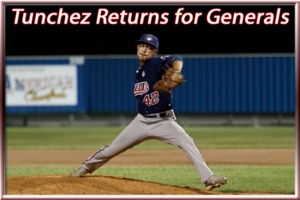 The Victoria Generals of the Texas Collegiate League have announced that Victoria native Daniel Tunchez, Jr. will return to pitch for the team this summer.
Tunchez appeared in 11 games for the Generals during the summer of 2012 and went 3-2 on the season with two saves. Tunchez recorded 16 strikeouts in 25.1 innings of work with a 3.90 ERA.
"Daniel was a big pickup for us last summer and really impressed everyone with his competitiveness," stated Blake Koch, the Generals vice president and general manager. "Daniel always wanted the ball in big situations and was a big asset to our bullpen."
Tunchez graduated from Memorial High School, but focused on basketball during his prep career. After a two-year hiatus from baseball, Tunchez went on to Eastfield College where he posted a 2-1 record with a 5.21 ERA as a freshman. He allowed just 17 hits in 19 innings to go along with 29 strikeouts.
Tunchez just completed his sophomore season at Eastfield where he transitioned into a starter and went 2-4 on the year with a 2.59 ERA. Tunchez struck out 50 batters in 55.2 innings this spring.
Tunchez is currently being recruited by several schools in the Southland Conference, but has yet to make a decision on where he will transfer next season.
"Daniel has a bright future ahead of him in the game of baseball," commented Koch. "He seems to get better and better each time he steps out onto the mound."
Season tickets for the Victoria Generals 2013 season are on sale now as the Generals prepare for their home opener against the Texas Marshals on Tuesday, June 4 at 7:05pm at Riverside Stadium. Fans can buy season tickets and team merchandise at the Generals team store located at 1307 East Airline Road, Suite H in the Town & Country Shopping Center, online at www.VictoriaGenerals.com, or by calling 361-485-9522.