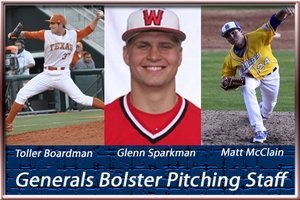 The Victoria Generals of the Texas Collegiate League have added three new pitchers to bolster their 2013 pitching staff as opening day draws near. Toller Boardman from the University of Texas, Glenn Sparkman from Wharton County Junior College, and Matt McClain from St. Mary's University have all signed with the Generals to play this summer.
"Toller, Glenn, and Matt are all three very talented pitchers," stated Blake Koch, the vice president and general manager of the Victoria Generals. "These three guys all have a good chance of playing pro ball in the near future."
Toller Boardman, a 6'3" left-hander from the University of Texas, has appeared in eight games as a redshirt freshman on the season for the Longhorns and has recorded five strikeouts in 6.1 innings of work. Boardman took a medical redshirt for the 2012 season due to a back injury.
Boardman joins a long list of former Generals who have come to Victoria from Bellaire High School, one of the most prestigious high school baseball programs in the state of Texas. Former Generals Trace Knoblauch, Kyle Chaskin, and Blake Denman all hailed from Bellaire as well.
Boardman, a three-time high school All-American, is the winningest pitcher in Bellaire High School history with an overall record of 37-6 and a 1.10 ERA during his four year career.
"Toller will be the first Longhorn we've ever had come play for us in Victoria," commented Koch. "Toller hasn't thrown much in the last two years due to his back injury, but he'll have the opportunity to come in and log a lot of innings this summer to get ready for his sophomore campaign."
Glenn Sparkman, a right-hander from Ganado, just completed his redshirt sophomore season at Wharton County Junior College where Generals new head coach, Stephen Flora, is currently the assistant coach for the Pioneers. As Wharton's ace this season, Sparkman led the pitching staff in just about every statistical category. Sparkman went 5-5 on the year with a 2.80 ERA and 63 strikeouts in 83.2 innings of action. Sparkman threw five complete games as well.
During Sparkman's redshirt freshman season, he served as the primary closer at Wharton, pitching just 14.2 innings and picking up a team-high five saves with a 3.34 ERA.
Sparkman has signed with Texas A&M University – Corpus Christi and plans to transfer there in the fall. With a fastball that has been clocked in the mid-90s this season, Sparkman has a good chance at being selected in the upcoming Major League Baseball amateur draft in early June.
"Glenn had a great year at Wharton as a starter and has really caught the attention of several scouts in the area," stated Koch. "Since he threw so many innings during the spring, we'll most likely use him out of the bullpen as our closer to keep his workload down this summer."
Matt McClain, a southpaw from St. Mary's University in San Antonio, was recently named to the All-Heartland Conference Second Team. McClain, a sophomore, has gone 8-4 on the season with a 2.21 ERA and 103 strikeouts in 101.2 innings. McClain has held opposing hitters to a .197 batting average on the year.
For his success, McClain has racked up several awards this season including being named a semifinalist for the Tino Martinez D2 Player of the Year Award. McClain is one of 40 players on the semifinalist list for his work on the mound this season that has earned him three Heartland Conference Pitcher of the Week awards, one South Central Region Pitcher of the Week award, as well as maintaining a stance as one of the nation's top leaders in strikeouts, as he is currently tied for seventh in the country.
McClain, a native of San Antonio, spent last summer with the Watertown Wizards in the Perfect Game Collegiate Baseball League where he went 3-2 on the season with a 4.93 ERA and recorded 44 strikeouts in 42 innings.
As a freshman at St. Mary's, McClain made 16 appearances and tossed 18.1 innings with 18 strikeouts. He went 1-1 on the year with a 4.42 ERA and held opposing hitters to a .210 batting average.
"McClain has had a tremendous sophomore season," stated Koch. "His numbers speak for themselves and we're looking forward to seeing what he can do in a Generals uniform this summer."
Season tickets for the Victoria Generals 2013 season are on sale now as the Generals prepare for their home opener against the Texas Marshals on Tuesday, June 4 at 7:05pm at Riverside Stadium. Fans can buy season tickets and team merchandise at the Generals team store located at 1307 East Airline Road, Suite H in the Town & Country Shopping Center, online at www.VictoriaGenerals.com, or by calling 361-485-9522.