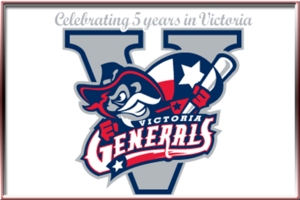 The Victoria Generals are embarking upon their fifth anniversary season in the Texas Collegiate League and the team has unveiled a commemorative logo to mark the occasion.
"It's hard to believe it's already been five years," commented Blake Koch, the vice president and general manager of the Victoria Generals. "It seems like just yesterday we were getting ready for the first game of the inaugural season back in 2009."
The Victoria Generals made their mark on the TCL right from the beginning, winning the 2009 TCL Regular Season Championship before falling in the championship round of the post-season. The Generals once again won the regular season crown in 2010, but this time finished the task by winning the 2010 TCL Championship under the direction of then head coach Chris Clemons.
After failing to make the postseason in 2011, the Generals rebounded and once again found themselves in the TCL Championship Series last summer in 2012, but fell just one game short of wining their second TCL title.
"Going to the TCL Championship Series in three out of four years is pretty impressive,"stated Koch. "Hopefully we can continue that winning tradition this summer and bring home our second TCL title."
Fans will be able to pick up merchandise featuring the Generals commemorative mark this season during all home games at Riverside Stadium.
The Generals will kick off their fifth anniversary season on the road on May 30 in The Woodlands. The team then returns to historic Riverside Stadium for the home opener on Tuesday, June 4, against the Texas Marshals at 7:05pm.
Season tickets for the Victoria Generals 2013 season are on sale now. Fans can buy season tickets and team merchandise at the Generals team store located at 1307 East Airline Road, Suite H in the Town & Country Shopping Center, online at www.VictoriaGenerals.com, or by calling 361-485-9522.