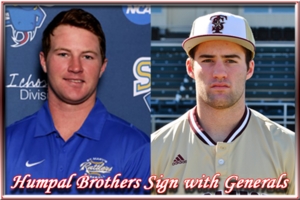 May 8, 2013 – As the 2013 Texas Collegiate League season draws closer every day, the Victoria Generals continue to add players that will help them on their quest for another league championship. This week, the Generals have announced the addition of brothers Nathan and Lucas Humpal to the 2013 roster.
"Nathan and Lucas are both talented pitchers," commented Blake Koch, the GM for the Victoria Generals. "They're both excited about the opportunity to play together for most likely the last time in their baseball careers."
Natives of Corpus Christi, the Humpal brothers were both standout players during their high school days. Nathan attended John Paul II while Lucas graduated from Flour Bluff.
Nathan, the older of the two, is a junior at St. Mary's University in San Antonio where he's appeared in eight games on the season and has 12 strikeouts in 13.1 innings.
Nathan transferred to St. Mary's after two spending two years at Wharton County Junior College. At Wharton, Nathan was a double-threat as a left-handed pitcher and first baseman. Nathan posted 20 strikeouts and walked just nine batters in 50.1 innings with a 2.58 ERA as a sophomore. Humpal hit .216 on the season with three doubles, eight RBIs, 12 runs scored, and 14 walks in 88 at bats.
"Nathan will be a reliable arm for us out of the bullpen this summer," commented Koch. "He's an older guy that has a lot of experience at the college level and brings a lot of maturity to our team."
Lucas, a right-handed pitcher, is currently in his freshman season at Texas State University. Lucas has been one of the Bobcats most reliable arms this season, appearing in 22 games while making five starts. Lucas is 3-2 on the season with a 3.02 ERA and 30 strikeouts in 44.2 innings of action.
"Lucas has a ton of upside and there are several scouts that are already following his collegiate career," stated Koch. "He'll most likely be a starter for us this summer as he prepares to make his way into the weekend rotation at Texas State next year."
Season tickets for the Victoria Generals 2013 season are on sale now as the Generals prepare for their home opener against the Texas Marshals on Tuesday, June 4 at 7:05pm at Riverside Stadium. Fans can buy season tickets and team merchandise at the Generals team store located at 1307 East Airline Road, Suite H in the Town & Country Shopping Center, online at www.VictoriaGenerals.com, or by calling 361-485-9522.