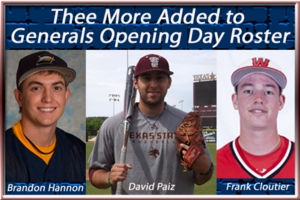 May 1, 2013 – The Victoria Generals are less than a month away from opening day of the 2013 Texas Collegiate League season. The Generals will open the season on May 30 in The Woodlands against the Woodlands Strykers.
As opening day approaches, the Generals continue to announce key additions to the 2013 roster. The latest three additions are outfielder Brandon Hannon from Emory University, utility man David Paiz, Jr. from Texas State University, and outfielder Frank Cloutier from Wharton County Junior College.
"Brandon, David, and Frank have a wide range of abilities and experience when compared to each other," stated Blake Koch, the vice president and general manager of the Victoria Generals. "But they will all be relied upon heavily this summer as big pieces of our lineup."
Brandon Hannon, an outfielder from Peachtree City, Georgia, just completed his junior season at Emory University where he hit .325 on the year with four doubles, one triple, 20 RBIs, 34 runs scored, 16 walks, and 22 stolen bases.
As a freshman and sophomore, Hannon earned both all-region and all-conference recognition. He hit a combined .376 during those two seasons with 42 RBIs and 86 runs scored to go along with 33 stolen bases. Hannon was named to the All-UAA Tournament Team both seasons and was the UAA Tournament Most Valuable Player in 2012.
"Brandon is seasoned veteran with three full years of college baseball experience under his belt," commented Koch. "We'll rely on his experience and maturity as one of the leaders of our team this summer."
David Paiz, Jr. will join the Generals after taking a redshirt season this spring at Texas State University due to the NCAA transfer rules. Paiz spent his freshman and sophomore years at Texas Tech University where he racked up several awards and honors.
As a freshman at Tech, Paiz hit .284 with 13 doubles, one triple, two home runs, 27 RBIs, 24 runs scored, and 21 walks while playing the outfield and serving as a designated hitter. Paiz was also a member of Tech's starting rotation during conference play. Paiz went 3-5 on the year with one save. He struck out 34 batters in 50.2 innings of work.
For his efforts, Paiz was a Collegiate Baseball Louisville Slugger Freshman All-American. He was also named to the All-Big 12 First Team and Big 12 All-Freshman Team. Additionally, Paiz was one of just two freshmen in the nation to be named to the John Olerud Two-Way Player of the Year Watch List.
Paiz battled through injuries as a sophomore, but still managed to post a 2-1 record on the mound with a 3.18 ERA. He struck out 19 in 28.1 innings. He appeared in just 11 games on the season and hit .229 with four doubles, three RBIs, and two runs scored.
Paiz, a native of Austin, played for the Hyannis Harbor Hawks in the Cape Cod Baseball League during the summer of 2012.
"David is a very skilled and versatile player that has already had a great deal of success at the college level," commented Koch. "It's always nice to have a player like David during the summer that can pitch and play multiple defensive positions."
Frank Cloutier will join the Generals following two standout seasons at Wharton County Junior College. Cloutier, originally from Quebec, Canada, will come to Victoria from Wharton along with Generals new head coach Stephen Flora, the current assistant coach at WCJC.
Cloutier was named to the NJCAA All-American and All-Region XIV teams following his freshmen season. Cloutier hit .348 on the year with eight doubles, two triples, 12 RBIs, 23 runs scored, and 10 stolen bases. Cloutier led the conference in hitting with a .435 batting average during conference play.
Cloutier has had another impressive season at Wharton as a sophomore. He is currently batting .371 with six doubles, five triples, one home run, 20 RBIs, 29 runs scored, and 17 stolen bases.
Cloutier has signed with Arkansas Tech University and will transfer there in the fall to continue his collegiate playing career.
"Frank can really handle the bat and plays a solid centerfield," stated Koch. "Coach Flora is excited to bring Frank with him from Wharton to have him on the roster with us this summer."
Season tickets for the Victoria Generals 2013 season are on sale now as the Generals prepare for their home opener against the Texas Marshals on Tuesday, June 4 at 7:05pm at Riverside Stadium. Fans can buy season tickets and team merchandise at the Generals team store located at 1307 East Airline Road, Suite H in the Town & Country Shopping Center, online at www.VictoriaGenerals.com, or by calling 361-485-9522.