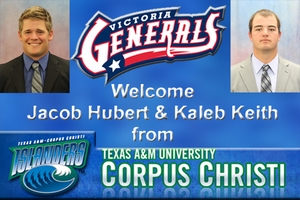 For the past four seasons, the Victoria Generals of the Texas Collegiate League have had at least one player on the roster from Texas A&M University– Corpus Christi. In 2009, there was Chris Pena. In 2010, Roman Madrid and Jeramie Marek helped the Generals win the Texas Collegiate League championship. In 2011, the Generals had Alex Jack, Phillip Garcia, and Santiago Ruiz. Last summer in 2012, Eric Weiss, Tyler Schnuriger, Bryce Zak, and Tanner Green were big pieces that helped lead the Generals to another TCL Championship Series appearance.
This year is no different as the Generals have added two new Islanders to the 2013 roster. Outfielder Jacob Hubert and right-handed pitcher Kaleb Keith will become the newest members of the pipeline running from Corpus Christi to Victoria.
"We're very fortunate to have a great relationship with the coaching staff in Corpus Christi," commented Blake Koch, the vice president and general manager for the Victoria Generals. "They have always sent us some of their top players every season, and this year is no different."
The Generals other newest connection to A&M-Corpus Christi is new head coach Stephen Flora who played for the Islanders during his junior and senior years back in 2008 and 2009.
Jacob Hubert, a junior transfer from Laredo Community College, was forced to sit out for the first part of the 2013 season at A&M-Corpus Christi due to transfer eligibility rules. Hubert has since made his way into the lineup and appeared in 10 games to date for the Islanders.
Following his sophomore year at Laredo, Hubert played for the Cooperstown Hawkeyes of the Perfect Game Collegiate Baseball League. Hubert hit .313 on the summer with 11 doubles, one triple, one home run, 21 RBIs, 31 runs scored, 10 walks, and 18 stolen bases. For his efforts, Hubert was named to the PGCL All-Star Team.
As a freshman at Laredo, Hubert hit .314 with 12 runs scored and nine RBIs while finishing in the top 30 in Region XIV's South Zone in batting.
Hubert is from Riviera, Texas and attended Calallen High School.
"Jacob is a versatile player that can play all three outfield spots and handle the bat,"stated Koch. "He's an experienced player that is poised to have a big summer for us."
Kaleb Keith, a freshman from San Antonio, has appeared in nine games for the Islanders this season and currently has seven strikeouts in 10.1 innings of work.
Keith attended D'Hanis High School in San Antonio where he was a First-Team All-State selection as a pitcher. As a senior, Keith went 12-2 with 166 strikeouts in 81.2 innings on the mound while also hitting .456 with 20 doubles, three triples, six home runs, 43 RBIs, 33 runs scored, and 33 walks. For his efforts, Keith was the named the Area and District 30-A MVP while being selected to the Texas High School Baseball Coaches Association All-Star Team.
"Kaleb is a big, strong, and physical kid with a power arm," said Koch. "He'll also have the ability to come in and gets some at bats for us this summer as a designated hitter or first baseman."
Season tickets for the Victoria Generals 2013 season are on sale now as the Generals prepare for their home opener against the Texas Marshals on Tuesday, June 4 at 7:05pm at Riverside Stadium. Fans can buy season tickets and team merchandise at the Generals team store located at 1307 East Airline Road, Suite H in the Town & Country Shopping Center, online at www.VictoriaGenerals.com, or by calling 361-485-9522.