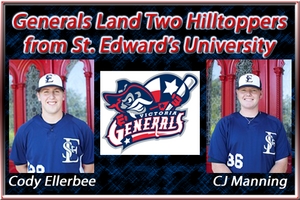 The Victoria Generals have reached the Texas Collegiate League Championship Series in three out of the last four years, last winning the TCL title in 2010. As the Generals make preparations for their fifth season in the TCL, the team's main focus remains the same: Continue the winning tradition.
This summer, the Generals will be under the leadership of new head coach Stephen Flora. The Generals plan to have a solid mix of returning players from previous seasons along with several new faces from across the country.
The Generals have announced the first two pieces of what they hope to be a championship caliber team in 2013. Hailing from St. Edward's University in Austin, the Generals have signed right-handed pitcher Cody Ellerbee and catcher C.J. Manning.
"Cody and C.J. are both prime examples of the type of players we look for," commented Blake Koch, Victoria's general manager. "They are both great players on the field and even better men off of the field."
Cody Ellerbee, a native of Georgetown, transferred to St. Edward's following two standout seasons at Tyler Junior College where he was a First-Team NJCAA All-American. Ellerbee appeared in 16 games as a sophomore, going 8-2 with a 1.67 ERA in 91.2 innings of work. Ellerbee struck out 65 batters and was also an Academic All-American.
As a freshman, Ellerbee appeared in 18 games, totaling 23.1 innings. He tallied a 2-2 record with a 4.63 ERA and 24 strikeouts.
Ellerbee made his first start of the 2013 season for St. Edward's this past Saturday and led his team to a 1-0 win against the University of Arkansas-Fort Smith. Ellerbee allowed just three hits in eight innings without allowing a run. He struck out six en route to his first win of the season.
"Cody had a tremendous sophomore year and is expected to be one of the top pitchers in the Heartland Conference this spring," stated Koch. "Depending on the number of innings he throws during the year, Cody will either be in our starting rotation or might be used in the back end of games as a closer for us."
Ellerbee will be joined in Victoria by batterymate C.J. Manning. A native of Tomball, Manning transferred to St. Edward's from Howard College, one of the most prestigious junior college programs in the country.
As a sophomore, Manning hit .286 with 14 runs scored and seven RBIs. Manning hit .292 his freshman year with 17 runs scored and 12 RBIs. He was also named to the WCJAC All-Star Team and was selected to play in the NJCAA Texas-New Mexico JUCO All-Star Game.
Manning is already off to a hot start in 2013, going 5-for-8 in a three game series against the University of Arkansas-Fort Smith this past weekend. Manning had a double, a walk, an RBI, and two runs scored during the series.
"C.J. will give us a veteran's presence behind the plate this summer," commented Koch. "He's a solid defensive catcher that can handle the bat well."
The Generals will open to 2013 season in The Woodlands on Thursday, May 30 against the Woodlands Strykers. The Generals first home game is set for Tuesday, June 4 at 7:05pm at Riverside Stadium in Victoria as the Texas Marshals come to town for a two-game series.
Season tickets for all 30 of the Generals home games this season are on sale now. Fans can buy season tickets and team merchandise at the Generals team store located at 1307 East Airline Road, Suite H in the Town & Country Shopping Center, online at www.VictoriaGenerals.com, or by calling 361-485-9522.