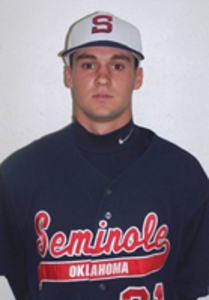 (Victoria, Tx) The first place Victoria Generals of The Texas Collegiate League returned home after splitting the series at Mckinney and Brazos Valley to take on the pesky Coppell Copperheads.
Hometown product Blake Payne took to the mound looking for win #5 and the offense and bullpen did not let him down.

Payne was solid into the seventh when the Copperheads mounted a threat. Garret Steward took over and calmed things down until close Zach Nuding finished off the ninth for a 5-4 win. Nuding now has 4 saves, second in the TCL.
The Generals, as usual, scored in the first. James Hipp led off with a double, Andy Russell singled and Hipp scored on an error. Mark Hudson then singled home Mike Davis to make it 2-0 after an inning of play.
James Hipp tripled in the second inning but was stranded there.
Then in the bottom of the fourth inning, Mark Hudson led off with a double and was advanced to third on an infield out. Chris Whitehead then hit a crisp grounder to the secondbaseman who threw Hudson out at the plate. Brendan McGaheran and James Hipp then loaded the bases with back to back singles. A passed ball moved everyone up and that ended the scoring as Joey Kenworthy flied out to center.
The Generals final two runs scored in the fifth on another wild pitch and sacrafice fly.
The Generals close out the series with the Copperheads tonight at Riverside Stadium, first pitch is 7:05. A two game series with the Brazos Valley Bombers begins Thursday.