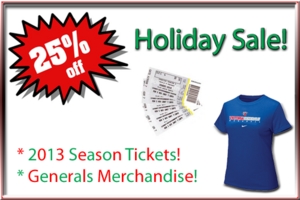 The Victoria Generals are having a 25% off sale on all season ticket packages and merchandise for the holidays. General's season tickets and merchandise make great holiday gifts for your loved ones.
You can take advantage of these great deals by stopping by the new Generals front office and team store located at 1307 East Airline Road, Suite H, in the Town & Country Shopping Center on the corner of Laurent and Airline. The Generals new team store is located directly behind Pizazz.
These items can also be ordered by calling 361-485-9522 or emailing the Generals director of ticketing and merchandise, Erica Yokum, at [email protected].
Sale ends December 31, 2012.
***25% OFF ** HOLIDAY SPECIAL ** 25% OFF***
WOMEN'S WHITE NIKE T-SHIRT $20.00 $15.00
WOMEN'S RED GENERALS T-SHIRT $20.00 $15.00
WOMEN'S LIGHT BLUE T-SHIRT $20.00 $15.00
WOMEN'S WHITE HEAD POLO $30.00 $22.50
WOMEN'S PINK BATTER POLO $30.00 $22.50
WOMEN'S/GIRLS CAMISOLE $16.00 $12.00
MEN'S GREY T-SHIRT $20.00 $15.00
MEN'S "GOT WOOD" T-SHIRT $20.00 $15.00
MEN'S LONG SLEEVE UNDERSHIRT $27.00 $20.25
MEN'S/WOMEN'S HOODIE $27.00 $20.25
MEN'S SHORTS $15.00 $22.25
RED JERSEY OR WHITE JERSEY $48.00 $36.00
YOUTH RED T-SHIRTS $18.00 $13.50
GAME WORN PLAYER JERESEYS $50.00 $37.50
ALL BASEBALL CAPS $24.00 $18.00
ALL VISORS AND ADJUSTABLE CAPS $16.00 $12.00
2013 SEASON RESERVED TICKETS $238.00 $178.50
2013 SEASON GENERAL ADMISSION TICKETS $143.00 $107.25
***25% OFF ** HOLIDAY SPECIAL ** 25% OFF***
*sale ends December 31, 2012