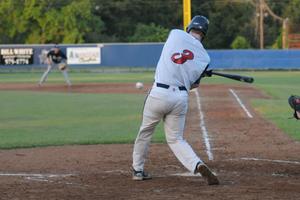 The Victoria Generals traveled to Kilgore on Monday night and lost their final road game of the regular season to the East Texas Pump Jacks by a final score of 8-3.
The Pump Jacks got to Generals starting pitcher Covey Morrow early in the bottom of the first inning for two runs.
The Generals evened the score at 2-2 in the top of the fourth on a two-run home run by Eric Weiss, his fourth of the season.
Morrow's night ended after giving up a single run in the bottom half of the fourth inning. Morrow took the loss as he allowed three runs on five hits with two strikeouts.
The Pump Jacks tacked on three more runs in the bottom of the fifth off of Jake McMurtry to make the score 6-2.
Weiss hit a sacrifice fly for his third RBI of the game in the top of the sixth inning to score Brandon Tierney.
After the Pump Jacks added two runs in the seventh off of James Ferguson, Chad Kruse hit a sacrifice fly to score Corti Wilson, who was appearing in his first game for the Generals this summer, to make the score 8-4.
Patrick Duncan led the Generals at the plate going 2-for-4 in the ballgame.
With the loss, the Generals fall to 31-22 on the season and the Pump Jacks improve to 36-19.
The Generals will have a day off on Tuesday before returning home for a four-game home stand to end the regular season. The Generals will take on the McKinney Marshals at 7:05pm on Tuesday night at Riverside Stadium.
Tickets are on sale now for the Victoria Generals first home playoff game on Sunday, August 12 at Riverside Stadium.
Box Score: http://tcl-generals.bbstats.pointstreak.com/boxscore.html?gameid=91387