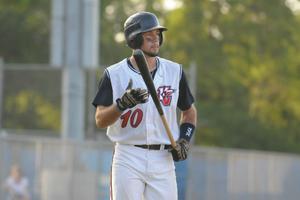 The Victoria Generals road trip continued on Friday night in Bryan as they were defeated by the Brazos Valley Bombers 12-6.
The Generals pitching staff struggled early in the ballgame with their command as Trae Davis and Jake McMurtry combined for seven walks in just three innings to lead to the Bombers first nine runs of the game. Davis would take the loss on the night for the Generals.
The Generals scored their first run in the top of the fourth inning as Patrick Duncan scored on an RBI single by Trent Wagner.
The Generals cut the Bombers lead to 9-6 with three runs in the fifth, one in the sixth, and one in the seventh. In the fifth, Alex Klonowski scored on an RBI single by Jude Vidrine. Duncan then drilled a two-run single to score Chad Kruse and Vidrine.
In the sixth, Klonowski hit a sacrifice fly to score Wagner. Then, in the seventh, Blue Hybner grounded out to score Weiss.
The Bombers got two runs back in the bottom of the seventh and one in the eighth to make the final score 12-6.
Wagner led the Generals at the plate going 2-for-4 in the game with a double, a hit-by-pitch, an RBIs, and one run scored.
The Generals and Bombers will play game two of the two-game series on Saturday night in Bryan at 7:05pm.
Box Score: http://tcl-generals.bbstats.pointstreak.com/boxscore.html?gameid=91378